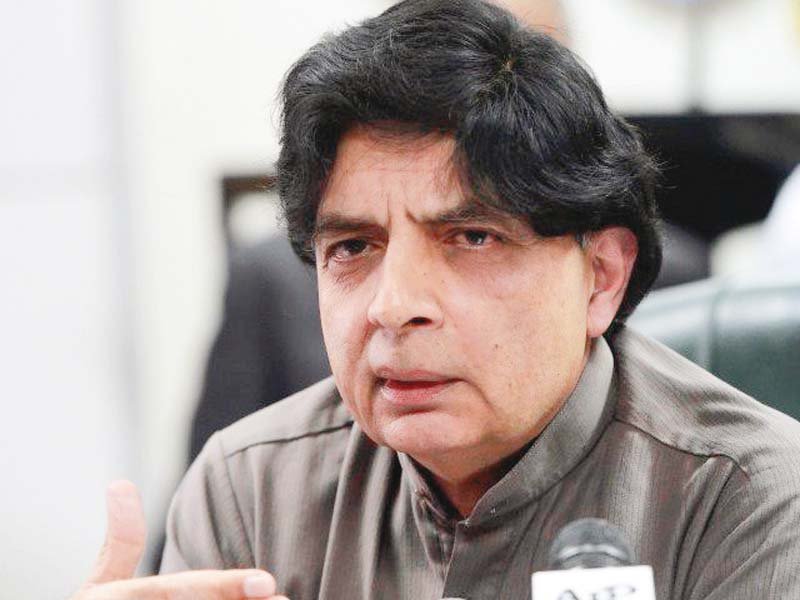 ---
ISLAMABAD:



The government has stopped international non-governmental organisations (INGOs) from operating in the country's volatile areas, including Balochistan, tribal areas and Gilgit-Baltistan.




"No NGO will be given permission if it is tampering with vital interests of the country," said Interior Minister Chaudhry Nisar Ali Khan on Monday.

Talking to the media outside the Parliament House, he said the government had closed down several NGOs since last year as they were not working under their charter. "NGOs, both international and local, will be given permission to operate in the country after proper scrutiny," he added.

Read: International NGOs to continue functioning in Pakistan for six months: PM

Nisar announced that from now on his ministry, and not the Economic Affairs Division, will now handle the issues of NGOs as was decided by a committee formed by Prime Minister Nawaz Sharif.

All NGOs, operating in Pakistan, will be registered within six months under a new dispensation, he said, adding that thousands of NGOs were working in the country but almost 40% of them were not registered.




The interior minister said there should be a transparent accountability system for INGO/NGOs in the country. "There is not a single law for NGOs to register or get approval before they start operating in the country. Right now, there is no data-bank for these NGOs, no system of audit or accountability," he said.

He said the NGOs' registration system would be simple and online while transparency would be observed in the whole process. He proposed NGOs evolve a self-regularity system within the six months under the mandate.

"We will not issue new visas for INGOs except for the ones that are formally approved," he said. "All NOGs/INGos are supposed to get themselves registered under the new law to be introduced in the aforesaid time period," he added.

Nisar also made it clear that representatives of national and international aid groups would be consulted on the new policy for NGOs.

Read: Only Islamabad office of Save the Children to remain closed, says Nisar

To a question regarding Save The Children (STC) whose offices were sealed earlier this month, Nisar said the offices were still closed.  "But now it has been decided after 10-day negotiations that its 13 offices operating in various parts of the country, excluding Fata and operation areas, will be unsealed for six months," he said. "However, STC's foreign employees will not be given VISA during the trial period."

New, tougher laws for NGOs under consideration

The government is going to introduce new laws, seeking 'tougher oversight' of INGOs' foreign funding as well as their operations in the country, said an official familiar with the development. The proposed laws are being drafted by a high-level inter-ministerial committee, headed by Special Assistant to Prime Minister on Foreign Affairs Tariq Fatemi.

An INGO registered under these laws shall declare to the federal government details of all foreign contributions and details of all bank accounts maintained by it.

Read: Six-month pause in INGO crackdown

The proposed legislation, likely to called, 'Foreign Contributions Act 2015', is similar to the laws for INGOs in neighbouring India, a senior official told The Express Tribune on Monday. "The new laws will rein in INGOs/NGOs," he said.

According to a member of the committee said: "All NGOs shall have to declare any contribution they receive from foreign sources. If representatives of INGOs/NGOs violate MoUs, then they shall be punishable by imprisonment for a term which may extend to one year or with fine." The final legal document, shall be presented before parliament most probably in next six months.

Published in The Express Tribune, June 23rd, 2015.
COMMENTS
Comments are moderated and generally will be posted if they are on-topic and not abusive.
For more information, please see our Comments FAQ