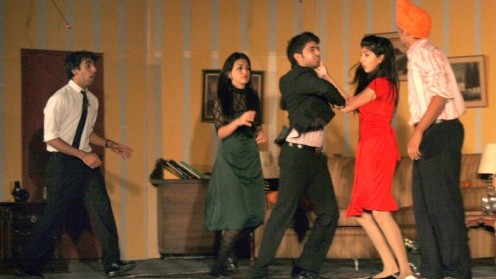 ---
KARACHI: "It's a good way to get girls," said 18-year-old Hasnain Jamal laughingly, right before he was about to go on stage to act out the part of Vic Johnson, one of the five men starring in a Karachi Grammar School (KGS) production "Funny Money".

The cast and crew, performing an adaptation of Ray Rooney's play, were excited to be performing live in front of a non-school audience for the first time. "We had performed the play last year but for the students," said Ali Jooma, who plays the protagonist called Henry Perkins. "We got such a great response that we had to do it again." And it was a full house at the KGS auditorium when the "encore," as the cast called it, opened for the Old Grammarians Society, family and friends.

Directed by the head of the drama society and teacher Shumaila Jamal Khan, the play started at 7 pm and was played out in two acts, each being 45 minutes long. The curtains were raised to a yellow set that remained the backdrop for the entire length of the play. On his birthday, Henry returns home from work to find his wife, Jean, played by Aaminah Qadir, putting finishing touches to the dinner she had planned with their friends Johnson and his wife Betty, played by Sheza Algera.

Strangely, Henry starts flipping through the yellow pages and between a frenzy of calls, informs his wife that he wants to move to Barcelona. "And I want to fly first class," he informs the man on the phone. Jean, convinced that her husband has returned home drunk, laments that she had gone through all the trouble, at which point Henry decides to reveal the reason for the big move.

He snaps open his briefcase to a dumbfounded Jean who cannot put to words what she's seen inside. "What is it?" "735,000 pounds." "But what is it?" "It's a bloody fortune, Jean!" Henry then tells Jean how, on his way home in the train, his briefcase was exchanged. When he realises that he now owns a fortune, he decides to move to another country under the name "Shuffle Bottoms" before Mr Nasty (the man on the train) tries to find him.

As the story moves on, Henry finds himself dealing with hurdle after hurdle. The husband who Jean always saw as "a bit of a wimp," undergoes a change in character, bribing and deceiving people to get immigration. As detectives get involved, Henry is suspected of soliciting men, a suspicion he is okay with as long as it keeps people away from suspecting that he has someone else's money.

Things get more complicated when a detective played by Arish Noshirwani turns up at the Perkins' residence to inform Jean that her "husband" had been shot dead and she was wanted for identification. As the plans keep changing for Henry, who eventually decides that he wants to buy Bali, the plot reaches a somewhat happy conclusion with the money handed back and Henry resigned to the fact that he was not meant to lead a rich and idle life.

Somewhere among the happy chaos, characters break into dance as well. The acting, although a little exaggerated at times, remained almost flawless for the one-and-a-half hour of the play. Jooma brought Henry's character alive to the last detail while Jean played the hysterical, slightly drunk wife brilliantly.

The sidekicks were all convincing, including Billu (Ali Imani), the Sikh cabby who was to take Henry and Jean to the airport. The cast rejoiced that it was the first time students had put up a play for non-students. And it looked like it might just happen again, gauging by the response of the audience, who chuckled and laughed at every quip and jibe.
COMMENTS (1)
Comments are moderated and generally will be posted if they are on-topic and not abusive.
For more information, please see our Comments FAQ