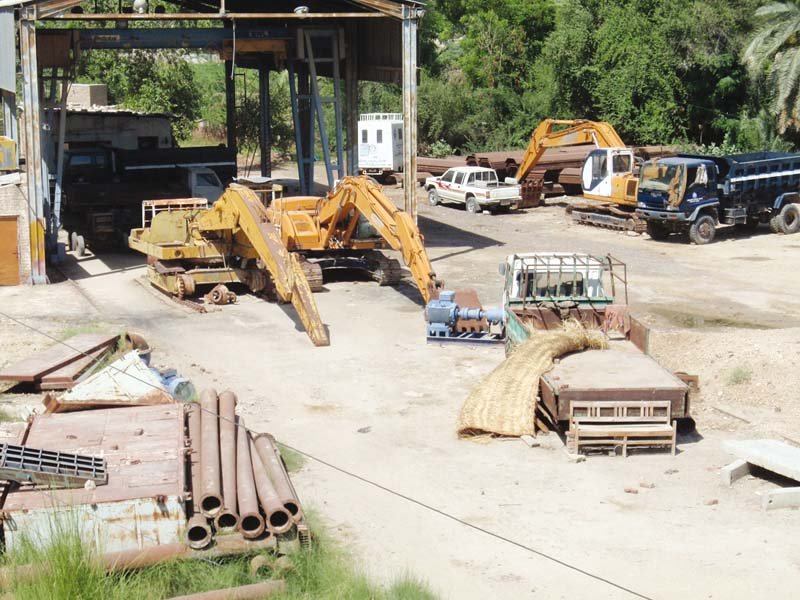 ---
SUKKUR: The irrigation department is running a double trade that allows its officials to pocket large amounts of money.

An official of the mechanical division of Sukkur and Guddu barrages told The Express Tribune that the department is, firstly, renting out billion-rupee machines to private contractors at inflated prices. Secondly, it is hiring machines from private contractors by showing inflated rates on the receipts and then pocketing the difference.





Between 1986 and 1991, this floating workshop, called a pontoon, was brought in by a UK company to replace the old gates of Sukkur Barrage.




For example, if there is a breach in a canal in Jacobabad, the irrigation department will choose not to send its own crane and bulldozers, even though it will only have to pay for the fuel and have its own workers carry out the job. Instead, the department hires private contractors to send in their machines for which the charges are anywhere between Rs15,000 and Rs35,000 per hour. The official will pay this actual rate to the contractor but will mention an inflated rate of Rs70,000 to Rs80,000 per hour on the bill so that more funds are released from the department but very few make their way to the contractor. The difference is kept by the corrupt officers.

Read: Irrigation issues: Farmers protest water theft

These machines, such as cranes, bulldozers, dumpers and trucks, are used during floods or when a breach occurs in the canal. They are mostly used to de-silt the river and canals to enhance their capacity and ensure smooth supply of water to those on the tail end, the officer explained.

However, the department is employing the services of private contractors and their machines hence its own billion-rupee machines are gathering dust. For his part, Guddu Barrage chief engineer Irshad Memon said they have several cranes, bulldozers and excavators to use during floods but denied renting them out to private contractors. "We [only] rent them to our sister institutions for the de-silting of canals and plugging breaches," he said.





This dredger, used to de-silt canals and rivers to ensure smooth flow of water, has been stationed on the right bank of River Indus and no one know whether or not it is still functional.




Meanwhile, Sukkur Barrage chief engineer Wali Muhammad Naich claimed that all the machinery is still in working condition, while the faulty machines are being repaired. "Sometimes we hire machines on rent from private contractors," he admitted, but refused to accept that it is their own machines they rent out to private contractors.

Missing machines from China

A retired irrigation officer, who spoke on the condition of anonymity, told The Express Tribune that an irrigation department team went to China in 2009-2010 to purchase heavy machines. "The machinery was brought to Pakistan but it never reached the mechanical stores of Sukkur and Guddu barrages," he said. "Rather, it went to influential contractors through some politicians." For his part, the Guddu Barrage chief engineer insisted he did not remember any machinery the department bought from China.

Read: Patronage for criminals: Protest held against illegal occupants in Irrigation Colony

A retired chief engineer of Sukkur Barrage, Muhammad Haroon Memon, recalled that an irrigation department team, led by mechanical region superintendent engineer Pir Munawar, had gone to China but he did not know where the machinery disappeared to. Munawar, who is said to be the brother of former education minister Pir Mazharul Haq, retired from service in 2013 and was not available for comments.

Pontoon — the floating workshop

Between 1986 and 1991, all the gates of Sukkur Barrage (except the 10 that are permanently closed) were replaced with new ones. A firm from the United Kingdom was given the contract and it brought in a floating workshop, called a pontoon, said former chief engineer Haroon Memon.





These excavators are used during floods to fix breaches in canals. If the irrigation department hires these machines from private contractors, it costs them Rs35,000 per hour on average. PHOTOS: EXPRESS




The pontoon was designed to serve as a temporary gate and a workshop as well, said an official requesting anonymity. It was fixed before the gate that needed to be changed to prevent water from flowing downstream, and then the gate was removed and replaced, he said. The official estimated that the floating workshop was worth millions of rupees. Besides serving as a temporary gate, the pontoon was equipped with all the necessary equipments needed to replace and repair barrage gates, he added.

Once it completed its job, the pontoon was stationed on the left bank of River Indus. It was left at the mercy of thieves who stole its generators and other valuable parts over time, said the officer. Every time a theft took place, the barrage authorities went to the police station and lodged an FIR against unknown thieves, he added. Naich, the Sukkur Barrage chief engineer, said he was unaware of the pontoon's status. Similarly, a dredger, which is used to desilt canals, has been stationed on the right bank of River Indus and the officials are not sure whether or not it is in working condition.

Published in The Express Tribune, June 22nd, 2015.