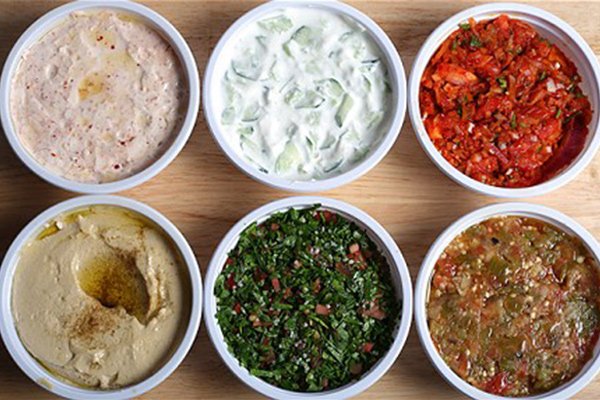 ---
KARACHI:
Pakoras and samosas without chutney? Never! Chutneys and dips may be side dishes but these finger-licking sauces are the real deal. They evolved during the British rule and became their favourite over the years the empire ruled the subcontinent.
PHOTO: YAMIRECIPE.BLOGSPOT.COM

A famous chutney during the British Raj was called Major's Grey, named after an English Army Officer. During the 17th century chutneys were imported to a few European countries as a luxury item.


PHOTO: PARTIAL-INGREDIENTS.COM

Here is a list of seven types of chutneys that you would not want to miss this Ramazan. They are easy to prepare and do not take much time.

1. Falsa chutney (Grewia asiatica condiment):

Falsa is a delicious tiny fruit with a sweet and sour taste. Summer is the season for falsa, why not make a chutney of this khaati meethi fruit.


PHOTO: FOOD.NDTV.COM

Prep time: 5 minutes

Ingredients:

250 grams falsa
¾ cup sugar
½ cup water
½ tsp salt (heaped)
1 tsp red pepper (crushed)
2 tbsp vinegar

Cooking directions:

Put all ingredients in a pan. Cook until a smooth syrup forms and falsas become soft. Store in an air tight jar.

2. Apricot sauce

Apricot sauce is very easy to make and requires only a few, simple ingredients. You can serve this sauce with snacks and also use it in fruit chaat. A perfect multi purpose sauce for Ramazan.


PHOTO: ALLYSKITCHEN

Prep time: 15 mins

Ingredients:

125 gm apricot
½ cup vinegar
1 tsp red chilli (crushed)
A pinch of cinnamon powder
½ cup sugar
1 tsp cumin seeds (crushed and roasted)
2 tbsp butter
Salt to taste

Cooking directions:

Soak the apricot in water until soft, separate the seeds and make a paste. In a cooking pan add apricot paste, vinegar, crushed red chili, cinnamon powder, sugar, cumin seeds, butter and salt. Mix it well and add ½ cup of water and cook. Take a blender and add all the mixture and blend it all. Pour it again into the sauce pan and cook until slightly thick. Once thick, take it out in a serving bowl and serve it.

3. Tamarind dip (Imli ki chutney):

A yummy tamarind chutney recipe that can be served alongside any snacks and starters.


PHOTO: HONESTCOOKING.COM

Prep time: 5 minutes

Ingredients:

1 cup tamarind paste
1/2 tsp salt
1 tsp cumin seed
1 tsp corriander
2 tbsp talhar chilli paste
1 tsp red chilli powder

Cooking directions:

Take tamarind paste in a bowl. Add salt, cumin seeds and corriander in it. Also add talhar chilli paste in it. Now add red chilli powder. Mix all the ingredients well. And place in a jar.

4. Coconut chutney:

Here's a quick and easy recipe for coconut chutney. Curry leaves enhance and soothe coconut flavor. This chutney can be served with pakoras, dosa and idli.


PHOTO: THECHERRYSHARE.COM

Prep time: 5 minutes

Ingredients:

1 cup coconut (grated)
5 – 6 whole red chilies
½ cup tamarind paste
1 tbsp gram lentil (roasted)
1 tsp mustard seeds
5 to 6 curry leaves
2 tbsp oil
Salt to taste

Cooking directions:

Blend together coconut, tamarind paste, salt, 2 - 3 whole red chilies and gram lentil. Heat oil in a pan and sauté the mustard seeds, curry leaves and whole red chilies. Now add in the blended coconut paste and cook for 1 – 2 minutes. The coconut chutney is ready to serve.

5. Pomegranate dip:

A tasty dip which is quickly prepared and is served with your favourite snacks, BBQ and main dishes.


PHOTO: MYWHOLELIFE.CA

Prep time: 10 minutes

Ingredients:

1 cup pomegranate seeds
1 cup mint leaves
½ bunch coriander
5 - 6 green chillies
4 - 5 tbsps lemon juice
1 tsp brown sugar
Salt as required

Cooking directions:

In a blender jug, blend together the pomegranate seeds, mint leaves, coriander, green chillies, lemon juice, brown sugar and salt. Dish out and serve.

6. Honey mustard dip:

Homemade honey mustard dip is so easy to prepare and a great way to enjoy with nuggets, burgers and steaks etc. Honey, mustard, mayonnaise, salt and pepper is blended in a smooth paste.


PHOTO: RECIPESSQUARED.COM

Prep Time: 5 minutes

Ingredients:

1 tbsp mustard paste
2 tbsp mayonnaise
1 tbsp honey
A pinch of salt and black pepper

Cooking directions:

In a bowl add mustard paste, mayonnaise, honey, salt and black pepper and mix well. Honey mustard dip is ready.

7. Hot tomato chutney:

This hot tomato chutney will leave you lip smacking. It's great to serve with shami kebabs, pakoras, and besani roti etc. Try this new chutney recipe and enjoy.


PHOTP: ZAIQA.NET

Prep Time: 5 minutes

Ingredients:

3 tomatoes (quartered)
1 tbsp sugar
4 tbsp vinegar
2 tbsp lemon juice
½ cup water
1 tsp salt
1 tsp red chili flakes

Cooking directions:

In a frying pan add in the tomatoes and salt. Once the tomatoes start sizzling, add in the vinegar and lemon juice. Cook for about 4 minutes and add in the water 2 tbsp at a time. Keep cooking the chutney on a medium high flame till the mixture starts to thicken. Add in the sugar and red chili flakes, cook for a minute and add in the remaining water. Cook till the sauce is thick. Check the salt to taste. You can add more if you like it salty.
COMMENTS
Comments are moderated and generally will be posted if they are on-topic and not abusive.
For more information, please see our Comments FAQ