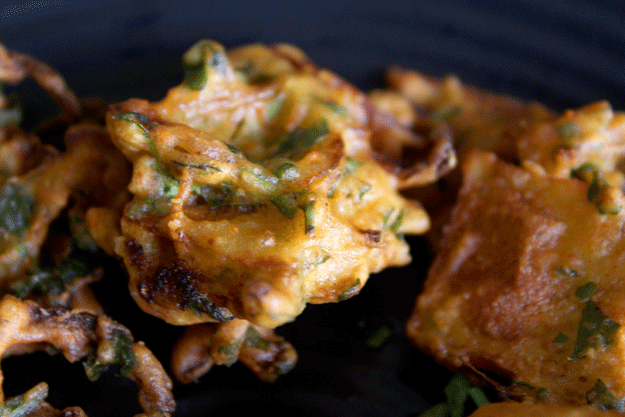 ---
It's that time of the year again, when folk come together around their dining tables for sehri and iftari amid prayers and blessings and charitable deeds and 'fry-ups' make their way back into our lives!

Among the most precious is the pakora. Pakoras have undeniably become a celebrated Ramazan tradition. They routinely appear on every table, in all households, in various forms throughout Ramazan and don't we love it.

We all appreciate the basic pakora; with the onions and the potato and chillies, but pakoras really can be made with so many or even a single ingredient; like the aaloo pakora and the spinach pakora, which by the way is a joy to bite into.

Today, along with the basic pakora, we will fry some 'masala' stuffed chilli pakora to get us started for Ramazan.

Ingredients:
¾ cup gram flour
1 medium potato
1 medium sized onion thinly sliced
2 green chillies
Handful of fresh coriander

Dry spices:
Salt to taste
Chilli powder
¼ teaspoon ground cumin
1 teaspoon roughly ground coriander powder

Optional:
Chaat masala

Chilli stuffing:
1 ¼ teaspoons chaat masala
2 teaspoons coriander powder (dhania powder)
Lemon juice
A pinch of red chilli powder


Method:
Slit the chillies lengthwise and deseed them (if you prefer)
Mix the chilli stuffing together to form a paste and fill in the green chilies using a teaspoon or butter knife.
Mix all the dry ingredients together and start adding water to the gram flour just before you are ready to fry the pakoras.
Add a few tablespoons of water at a time and mix until the mixture resembles a light paste. I shouldn't be too firm or gummy, but not runny either.
Fry on a medium to low heat until crisp and golden.
Serve hot with your favorite chutney. We love dhania and imli chutney with ours.
And Voila! Have a great first iftari all.
COMMENTS (1)
Comments are moderated and generally will be posted if they are on-topic and not abusive.
For more information, please see our Comments FAQ