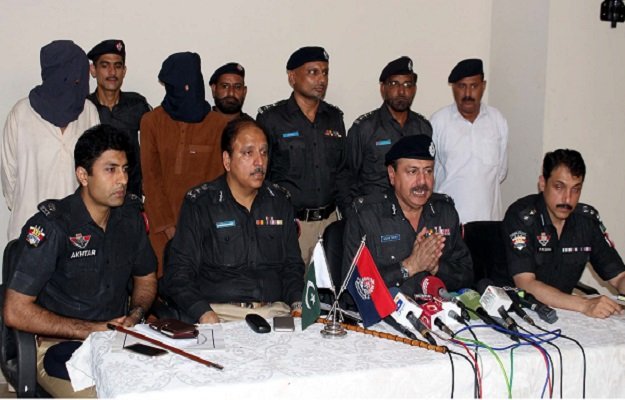 ---
KARACHI:



The Sindh police on Thursday claimed to have arrested two persons involved in two separate bank robberies.




Presenting the suspects — Abdus Salam and Naseebullah — before the media, Karachi police chief Ghulam Qadir Thebo said that, "Three robberies have been reported and we have traced the perpetrators of all three."

He said that the police had traced and arrested all the criminals involved in last year's bank robberies and had recovered all the stolen loot. "Fingers were pointed at the Karachi police and we were asked how a man could just walk into a bank, take money, damage bank property and just walk away," he said. "Today, I want to tell you that the Karachi police have arrested that man. He is in front of you."

Thebo added that they have also arrested the guard who helped in the robbery. He was referring to the robbery at Meezan Bank in which a man walked into the branch with a hand grenade and and stole items from the lockers.

Abdus Salam was arrested on Wednesday and is accused of placing a hand grenade on a motorcycle outside Binori Town mosque on June 16. The bomb was defused by the bomb disposal squad. He also allegedly looted Bank alHabib in Taimuria in February by threatening people with a hand grenade.

Salam was arrested from Banaras Bridge and a pistol, a hand grenade and 50 bullets were recovered from his possession. The criminal has not disclosed his affiliation with any group.

The other alleged robber, Naseebullah, robbed 75 of Meezan Bank's lockers in Gulshan-e-Iqbal with the help of a security guard Nawab Gul. The police have not been able to ascertain the worth of the items stolen from the lockers. His face was not shown because the police is still after his accomplices.

During the press conference, Thebo was asked why the police often arrest bank robbers but rarely recover the stolen money, to which he replied that they only want to prevent bank robberies.

Published in The Express Tribune, June 19th, 2015.