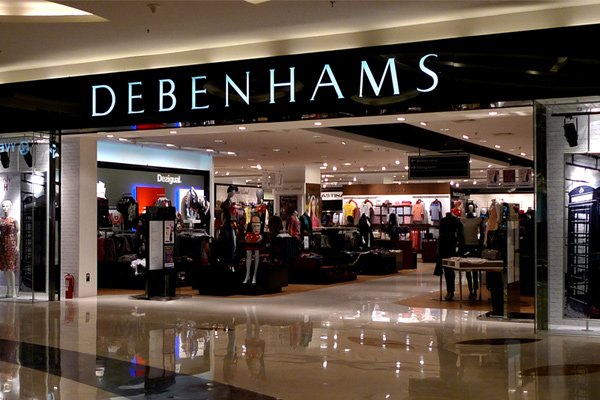 ---
KARACHI: All that glitters isn't gold and every varnished grandiose store may not be able to haul in profits. Case in point: Debenhams, UK's multi-label offering that opened at Karachi's Dolmen City Mall some two odd years ago with high aspirations, hype and a bang … and now continues to exist with barely a whimper.

One doesn't have to look at sales reports to discern that Debenhams has failed to become a mall favorite. The two-storied, over 27,000 square feet large store that sells everything from shoes, accessories, lifestyle to high-street fashion has a few shoppers drifting through it at most. The only time it manages to draw in crowds is when it goes on sale, going from 'upto 50%' discounts to whopping 'upto 70%' reductions. Stocks got to move and apparently, the only time stock really sells at Debenhams is when the store goes on its all-too-often sales.


PHOTO: PHOTOBUCKET

Why, one may wonder? Debenhams' entry into Pakistan had hitherto seemed so promising, a chance for the masses to have a taste of UK's high-street and possibly upping the retail game, spurring local brands to focus more on business. With a star-studded line-up boasting names like Jasper Conran and Julien Macdonald why couldn't it ingratiate itself with the city's sartorially savvy crowd?

The prices at the store may be one factor. As a foreign brand, Debenhams is expected to be pricier than its local counterparts but its target customers get distracted by other, more competitively priced international labels like Next and Mothercare. Most people aren't really interested in buying a men's shirt worth Rs12,000 at Debenhams when they can purchase a similar design from Next at around Rs6,000.


PHOTO: FACEBOOK/DEBENHAMSPAKISTAN

What plummets sales further is that most of the stock at UK-based Debenhams is suited to cold, wet London rather than balmy, sweltering Karachi. Those finely-tailored shirts, dresses and pants fashioned from thick linens and polyester-mixed fabrics can make even the most resilient dresser break out into a heat rash! People want to look good but they also want to wear clothes that are comfortable. It's one of the main reasons why international brand Mango has scored a local hit. Originating from hot and humid Spain, the apparel retailed at Mango can easily be worn during our excruciating long summers.


PHOTO: FACEBOOK/DEBENHAMSPAKISTAN

CEO of A-Team Ventures, Yasin Paracha, responsible for bringing Debenhams to local shores begs to differ. "Our initial stock at the store was based on what we thought people would want to buy. Now, based on our sales figures and in-store observations, we have changed focus to products that have proved to be more popular. Newness matters and so, we also try hard to keep bringing new stock to the fore. It's why we have sales; to quickly sell off all remaining stock and bring in the new."


PHOTO: FACEBOOK/DEBENHAMSPAKISTAN

Amongst the host of international brands brought to Pakistan by A-Team Ventures, including Next, Early Learning Centre, Mothercare, Crocs, Accessorize and Fitflops, Debenhams is possibly the least popular. Other brands owned by the group that can be seen faltering are perhaps the pricey Timberland with its rugged outdoor-sports oriented product lines and Monsoon, which can be seen trying to gain strength by placing more focus on its children's wear. Why doesn't Paracha just close down these mumbling, bumbling white elephants rather than pay exorbitant rents and duties as he waits for sales to improve? "Sometimes businesses take longer to gain a foothold in the market," he surmises.

But not every international brand – no matter how illustrious – is able to make a mark amongst the local masses. One has seen so many brands like Benetton, Pumpkin Patch, Calvin Klein and Puma dabble into Pakistan only to eventually downsize or bite the dust altogether. According to Sidra Nadeem, Director of the Dolmen Group, labels like Bodyshop, Mango and Accessorize are doing very well at their malls. The rest are flailing to bring in steady sales while Khaadi, Sapphire, Generation and Outfitters rage on in the local high-street.


PHOTO: FACEBOOK/DEBENHAMSPAKISTAN

"It's a tricky business," observes Labels' CEO Zahir Rahimtoola, who was the first licensee of Levi's and Dockers in Pakistan back in 2000. "There isn't a very big market for international brands in Pakistan. Import duties are high which means that limited stock can be brought into the country. With the rupee devaluing, prices escalate and besides, only a very niche market appreciates Western design sensibilities. The people who can afford international brands are generally those who travel a lot and they end up doing their shopping while they are abroad. Only a few international brands have managed to survive so far in Pakistan."


PHOTO: SKYSCRAPERCITY.COM

Will Debenhams be able to survive? Yasin Paracha's no amateur and credit goes to him for placing his faith – and money – in the Pakistani market. He may just be able to swing things around for the store. Or he may not. New contenders keep venturing into the country. Denim big-wig Pepe Jeans London has just set up shop in Islamabad with plans to expand and according to rumor, the very viable, quite popular Marks & Spencer has its sights on Karachi. The retail game since Debenhams entered the fray two years ago has certainly changed – but not necessarily in the store's favor.

Maliha Rehman is a fashion and lifestyle journalist with a penchant for writing, all the time! Log on to Twitter for more updates @maliharehman
COMMENTS (28)
Comments are moderated and generally will be posted if they are on-topic and not abusive.
For more information, please see our Comments FAQ