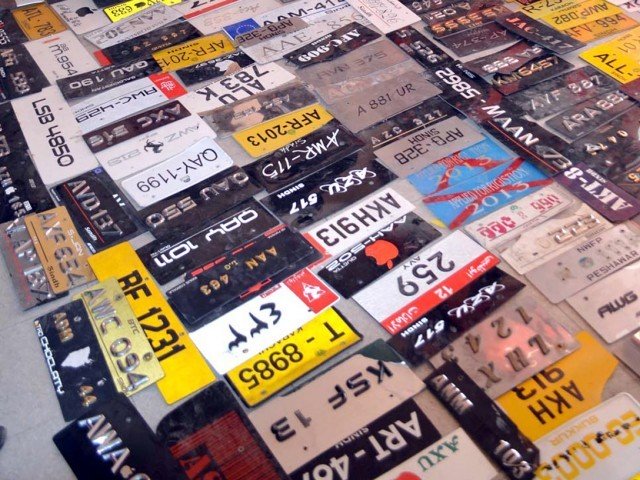 ---
LAHORE:



With the passage of the Provincial Motor Vehicles Ordinance (Amendment) Bill of 2015, the Excise and Taxation Department and the Special Monitoring Unit (SMU) have started consulting vendors to finalise design of the new customised and specialty registration number plates, The Express Tribune has learnt.




The department will seek proposals for manufacture of number plates once design details are finalised.

Read: 'Fancy offence': New registration plates being introduced in capital

The amendment approved by the Punjab Assembly on June 11 allows vehicle owners to get customised and specialty number plates at a premium rate. The proposed plates can be scanned using auto number plate recognition (ANPR) cameras. Specialty plates includes following themes: breast cancer awareness, counter terrorism, cultural diversity in Pakistan, awareness of disabilities, culture of Punjab, Worldwide Fund for Nature, importance of education and architecture in Pakistan and Punjab and historic sites.




SMU senior member Salman Sufi said standard operating procedures (SOPs) would be devised for customised plates to ensure that they do not contain caste names or hate speech. He said a proposal to donate certain percentage of funds generated through sale of specialty plates on the themes identified for them was also under consideration. However, he said the chief minister had yet to approve the proposal.

Several vehicle owners The Express Tribune talked to about the proposed plates expressed excitement at the idea of customised plates.

Read: New rates finalised: Get your number plates from today

Amir Shafique, a cattle farmer, said he had already submitted an application with the E&T Department for a customised number plate with his name on it. "I have a very popular name. I wanted to be the first one to apply for the plate," he said.

Rana Faizan, a businessman, said he would apply for a customised plate. However, he said it would have been better to allow caste names as well.

Khawaja Haroon, another businessman, praised the initiative. He said issuance of customised number plates was a widely used practice in western countries to generate revenue. He said the specialty number plates would allow people to identify with causes that were close to their hearts. Haroon said the E&T Department should discontinue the practice of issuing plates in several colours. "Number plates with different colours create a sense of inequality in the society," he said.

Abuzar Butt, a car dealer, said use of customised plates was already common. "It is illegal at the moment but no one gets penalised for it," he said. He added that it was good that the government was regularising the practice. "At least now they [the government] can make people pay for customised plates.

Some people criticised the law. Hafiz Saadat, a lawyer, said that by setting a premium price for customised number plates the new law catered to the rich only.

SMU senior member Salman Sufi dismissed the criticism. He said that there was no compulsion to get a customised number plate. "It's a matter of personal choice. If anyone wants to customise their vehicle number plates, they can do that by paying a little more than what they pay for a standard registration plate," he said. He added that the initiative would help the government generate revenue.

The chief minister had approved the use of customised and specialty number plates on March 21. The draft of the amendment to the Provincial Motor Vehicles Ordinance of 1965 was presented in the Punjab Assembly on May 25, and approved by the standing committee May 27.



Correction: An earlier version of the story quoted SMU senior member Salman Sufi as saying that there was compulsion to get a customised number plate. The error has been fixed.

Published in The Express Tribune, June 15th, 2015.