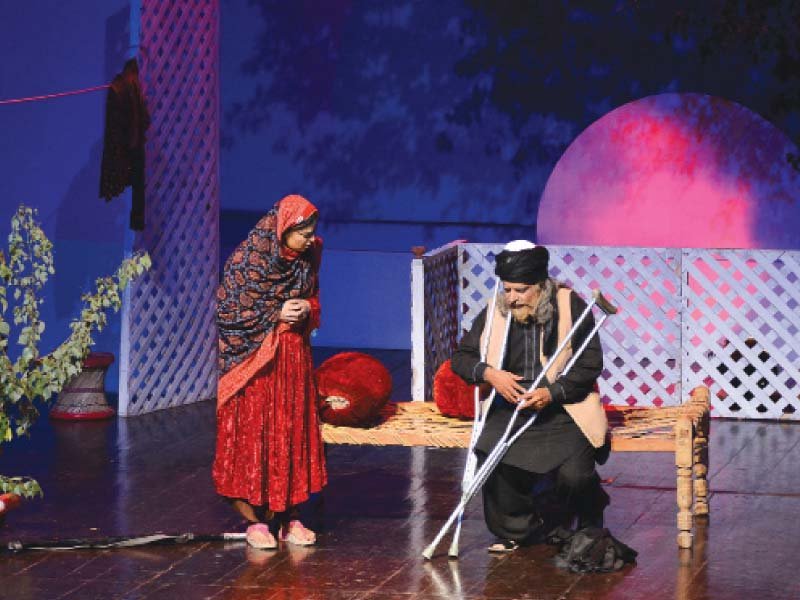 ---
ISLAMABAD:



After honing their skills at a drama workshop, students put their learning to test. They presented 'Ishq Daim', based on a folk love story reflecting on the social ills that exist especially within the Pakhtun culture at the PNCA auditorium on Sunday and Monday.




The three-day workshop was conducted by Waqar Azeem, head of PNCA drama department.

Due to the melodramatic intensity with which each dialogue is delivered the play comes off as comical rather than tragic, as was intended. This was probably because, the play was made up of mostly students and aspiring actors within a mere three days.

However, the play never ceases to amuse and entertain with a picturesque set of an ethnic village home backed by a luminescent orange, glowing moon as well as its loud and lurid dialogue deliveries.

It opens up with young men clad in traditional Pakhtun attire dancing to the popular hit, "Bibi Shirin" as a bride sits on a charpoy in the back.

From the get go, the story takes a tragic turn when Sanober Khan, the groom, abandons his bride to be, Zarghona Khan and her family on their wedding day.

Unable to swallow the shame of the groom's abandonment, Zarghona's debilitated father dies an early death leaving behind a partially insane daughter.

The crux of the drama is centered on the dialogue which takes place when Sanober returns after forty years to seek forgiveness from Zarghona.

"The purpose of this drama is to highlight the social evils in our society. People just abandon others without considering what the other will go through", said Waqar Azeem.

Although the execution could have been more instinctive, the drama deserves credit for touching upon many of the social evils within a conservative society.

Particularly those stemming from the very concept of 'ghairat' – a native term that can be most closely translated as a mix of honour associated mostly with matters of love.

Published in The Express Tribune, June 15th, 2015.

 
COMMENTS
Comments are moderated and generally will be posted if they are on-topic and not abusive.
For more information, please see our Comments FAQ