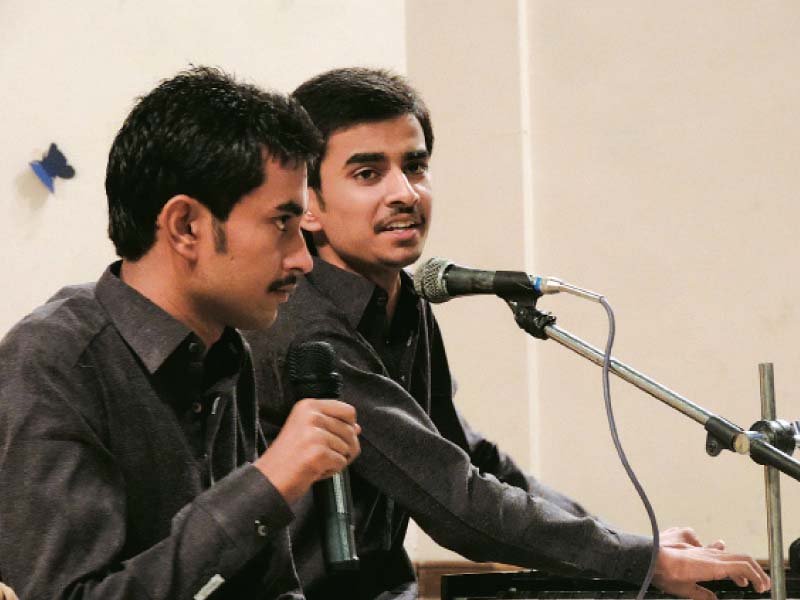 ---
Artists and writers joined two of the sons of Sadiq Faqeer to pay tribute to the highly-talented musician and singer from Tharparkar, who passed away in a tragic road accident in Saudi Arabia last February.

The musical evening, "In Memory of Sadiq Faqeer" was arranged by the Sindh Graduates Association Islamabad chapter and friends of the renowned singer at the Shah Abdul Latif Bhittai Community Centre, here on Sunday, said a press release.

Saqiq's sons as well as a number of other artists travelled all the way from the remote district to attend the event.

The singer was known for his humbleness, innovation and promotion of modern poetry, while maintaining roots in strong Sufi and folk traditions of the South Asian region. His two sons, Nazakat Sadiq Ali, 25 and Rahat Sadiq Ali, 16, supported by their uncle Rafiq Faqeer are determined to carry forward Sadiq's mission.

The two brothers enthralled the audience as they performed a number of famous songs sung by their father. The participants of the gathering were also pleasantly surprised when the two performed their own compositions.

Niaz Nadeem, one of the organisers of the event said that Nazakat and Rahat were true reflection of their father, who recognised that though they had a long way to go in establishing their own identity in the world of music, they were adequately equipped to launch their careers.

Noted poet and writer Harris Khalique said that Sadiq who hailed from the small town of Mithi, Tharparkar made a name for himself in a very short period of time by dint of hard work and his humble nature.

"Sadiq emerged from the small town of Mithi and reached the heights of his career in a very short span of time by dint of his hard work and humbleness," he said.

Khalil Kubbhar, a renowned Sindhi poet from Mithi who had also travelled all the way from Thar to Islamabad, recited a poem depicting images of sadness and melancholy witnessed during the funeral of Sadiq Faqeer.

Dr Ishaq Samejo, renowned Sindhi poet and director of Mirza Qaleech Baig Chair at the University of Sindh, in his remarks said that music was not Sadiq's profession but it was a labour of love, which he carried with him all his life. "Sadiq was a great human being on top of being a very humble, highly talented singer and musician," he said.

Published in The Express Tribune, June 15th, 2015. 
COMMENTS (1)
Comments are moderated and generally will be posted if they are on-topic and not abusive.
For more information, please see our Comments FAQ