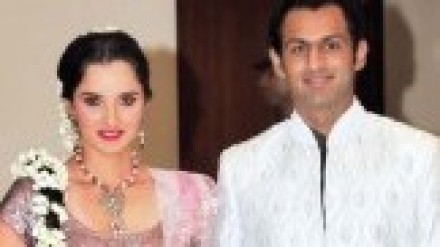 ---
KARACHI: Pakistan has been captured by Shoania fever but the questions remains: Why? Is this a one-off phenomenon or will all celebritiy couples face the same hype and scrutiny?

Pakistani cricketer Shoaib Malik and Indian tennis champion Sania Mirza shocked their respective countries when they announced their engagement. The scandal which followed only made the story more interesting and both Indians and Pakistanis followed the story every step of the way.

Now, Malik and Mirza are married and Ayesha Siddiqui has been left in the past, but the hype over the couple is yet to die down. Malik and Mirza arrived in Islamabad on April 22, 2010 as Pakistan's 'state guests' and a dinner with Prime Minister Yousaf Raza Gilani was scheduled in their honour but got postponed. Earlier the couple were received by Rashid Rabbani, Adviser to Sindh Chief Minister and Mohammad Ali Shah, Provincial Sports Minister at the Karachi airport where they were presented with a Sindhi cap and ajrak.

The deputy director of the Federal Investigation Agency also held a reception at his office in their honour. The couple are holding their wedding reception in Lahore where 1,000 police officials will be deployed to ensure that there are no problems and Mall Road will also be closed during the reception. Earlier when speaking to the media, Mirza said she was honoured to be received so grandly in Karachi but after her arrival in Lahore, the tennis player might have changed her mind.

Malik and Mirza, along with Mirza's mother arrived in Lahore on April 23, 2010 where they were greeted with a throng of fans at the airport and the hotel. The couple dodged the media and fans by exiting from the Hajj Terminal and reached their hotel easily. However, hundreds of fans were waiting to greet them at the Pearl Continental and even the police could not help them out. Mirza's mother fell down and injured one of her ribs which upset Mirza no end and Mirza herself almost fell but Malik supported her.

The couple made it to their room and extra security has been deployed at the hotel. This cross-border romance has cast a spell on the country, perhaps because Malik and Mirza are a breath of change in a country where there is only depressing news of death, suicide bombs and destruction. As the situation in the country gets worse, the public use anything they can to distract themselves. Previously, Pakistan did not have a tabloid culture and this type of behaviour was generally associated with a Hollywood couples like Brad Pitt and Angelina Jolie.

However, last year Meera's public squabble with Atiqur Rehman made news and continues to do so today, Veena Malik and Mohammad Asif's romance has generated enough gossip and speculation, and now, the enthusiasm about 'Shoania' has been taken to a whole new level. The couple have become headline news in a country which is at the moment facing economic turmoil, an electricity shortfall and a fiscal deficit.

News channels have shown every aspect of the couple's lives including the room they watch television in, the bed they sleep in, and the clothes they wear. The question that comes to mind is: What's next? And will the next celebrity couple have to face the same kind of treatment?
COMMENTS
Comments are moderated and generally will be posted if they are on-topic and not abusive.
For more information, please see our Comments FAQ