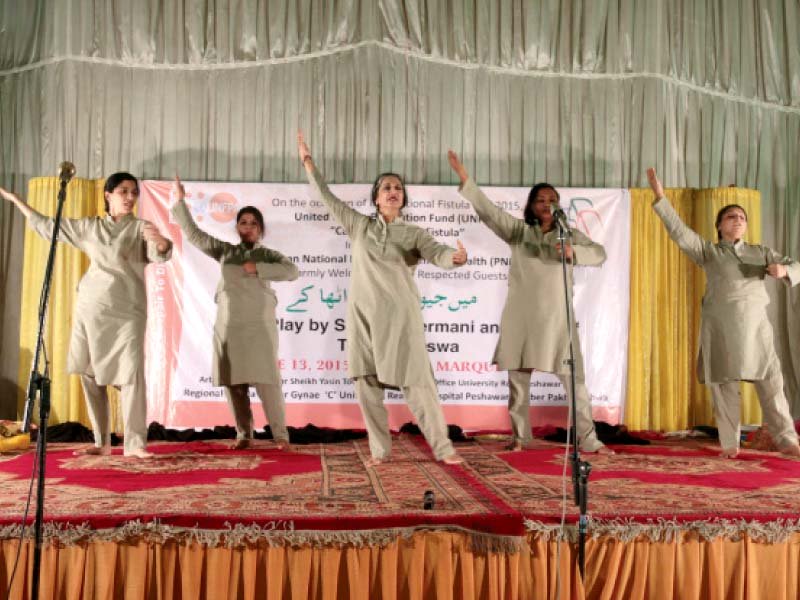 ---
PESHAWAR: Tehreek-e-Niswan used theatre as a mouthpiece to raise awareness about obstetric fistula. The group organised a stage play titled, Main jiyungi sar utha kar (I will live with my head held high) at Palm Marquee Hall in the provincial capital on Saturday to highlight the rights of women who are suffering from the medical condition.

Theatre performer and founder of the women's organisation Sheema Kermani performed the play along with her team.

One of the most serious injuries incurred during childbirth, obstetric fistula is a hole in the birth canal and rectum caused by prolonged, obstructed labour due to the lack of timely and adequate medical care, resulting in constant leakage of waste matter from the woman's body. Most women who suffer from the condition face physical, social and psychological issues even though treatment – a repair surgery – is possible.

The message behind the stage drama was to encourage women to change their approach toward the condition.

The story revolved around Razia, a girl who is married off to an older man by her grandmother (played by Kermani) against her wishes. Some months after the marriage, Razia realises she is pregnant. Her mother-in-law gives Rs2,000 to a midwife to ensure that she gives birth to a boy.

During Razia's pregnancy, the midwife mistreats her and administers a series of injections to her. As a result, Razia gives birth to a stillborn baby and is diagnosed with fistula. She is abandoned by her in-laws and eventually her mother takes her to a doctor who manages to provide her with proper treatment.

At the end of the play, Razia, who was once a victim of cruel conventions, gradually recovers and works toward protecting other girls who are faced with a similar plight.

The hour-long performance drew attention to the fact that such unfortunate circumstances will continue to plague women unless they change the way they think.

The threat is real

Speaking to The Express Tribune, Kermani said the play is based on a true story.

"There are several incidents of women who have faced these problems," he said. "However, very few women are willing to take a stand and speak about their rights."

She added this drama has been performed in various cities and villages of the country to raise awareness among women about fistula.

Dr Sher Shah, who has established a fistula centre at Lady Reading Hospital, said thousands of women around the country suffer at the hands of early marriage and untrained midwives and end up with the condition because of this. "Women must realise that fistula is curable," said Shah.

The drama was the part of a campaign initiated by United Nations Population Fund in collaboration with Pakistan National Forum on Women's Health to end fistula.

Published in The Express Tribune, June 14th, 2015.
COMMENTS
Comments are moderated and generally will be posted if they are on-topic and not abusive.
For more information, please see our Comments FAQ