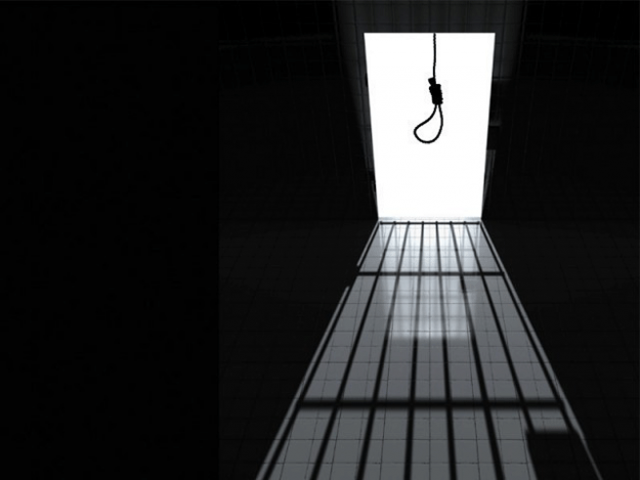 ---
LAHORE:



Three prisoners were executed in the Punjab on Wednesday – two at Kot Lakhpat Jail, Lahore, and another at Faisalabad Central Jail.




Aftab Bahadur Masih, whose family said he was a juvenile when the offence was committed, was hanged at Kot Lakhpat Prison.

Ghulam Mustafa, a plumber, and Bahadur, his apprentice, were arrested on September 6, 1992 for killing Sabiha Bari and her two sons on September 5, 1992.

Counsel for Bahadur had said that his confession had been obtained through torture.

Bahadur's family had held a protest demonstration in front of the Lahore Press Club On Tuesday demanding that his execution be halted. They said that his birth certificate which said that he was born on June 30, 1977, had not been challenged by police or in trial courts. They said he was a juvenile at the time of the offence. In a letter Bahadur wrote in prison before his execution, he said that he was innocent.




In the days leading up to his execution, pleas for mercy for Bahadur poured in from several human rights groups and church leaders. They had asked authorities to try him as a juvenile. Ghulam Mustafa, who was also accused of the same offense, was not because his family presented documents proving they had reached a compromise with the family of the deceased.

Jail Superintendent Asad Javed Warraich said Mustafa who had been kept at Sahiwal Jail was not executed as his family had managed to reach a compromise with the family of the deceased.

Warraich said Tariq alias Tara was also hanged on Wednesday. Tara had killed his rival, Zahid, in 1995.

Hashmat Ali was executed at Faisalabad Central Jail. He had murdered six people in Nankana Sahib in 2000. The jail superintendent had said that apex courts had upheld the sentence passed by the trial court.

Executions scheduled

The Faisalabad jail superintendent said seven prisoners were scheduled to be hanged at the Faisalabad Central Prison in the coming week.

In Lahore, District and Sessions Judge Tariq Iftikhar Ahmed appointed judicial magistrates on Wednesday to witness the execution of three murder convicts and record their last will at Lahore Central Jail. The judge appointed Magistrate Irfan Ali to witness the execution of Mushtaq Ahmad, scheduled to be hanged on June 13. Magistrate Muhammad Imran Shaikh has been appointed to witness the execution of Khizar Hayat, scheduled to be hanged on June 16 and Magistrate Muhammad Yousaf will witness the execution of Saeed Muhammad, scheduled to be hanged on June 17.

Asma Jehangir slams executions

In a statement issued on Wednesday, the former Supreme Court Bar Association president called on the government to end execution of prisoners who had spent over a decade in prison. She condemned the execution of Bahadur, saying that he had had a valid birth certificate showing that he was 15 at the time the crime was committed.  She demanded that the government set up a review commission of eminent lawyers so that those who had been deprived of rights and guarantees under United Nations conventions would not be sent to the gallows.

Two prisoners die 'natural' deaths

Prisoner Amanat Masih, a resident of Shadbagh, died at the Kot Lakhpat Jail hospital on Wednesday. Prison officials said he had been undergoing treatment for Tuberculosis and HIV. They said the other convict who had died at the prison was Ali Sher, a resident of Sahiwal.

Sher was a murder convict who had been sentenced to life imprisonment. He had been shifted from Sahiwal Jail to Kot Lakhpat Jail for treatment of chronic liver disease. He died at Jinnah Hospital.

Published in The Express Tribune, June 11th, 2015. 
COMMENTS
Comments are moderated and generally will be posted if they are on-topic and not abusive.
For more information, please see our Comments FAQ