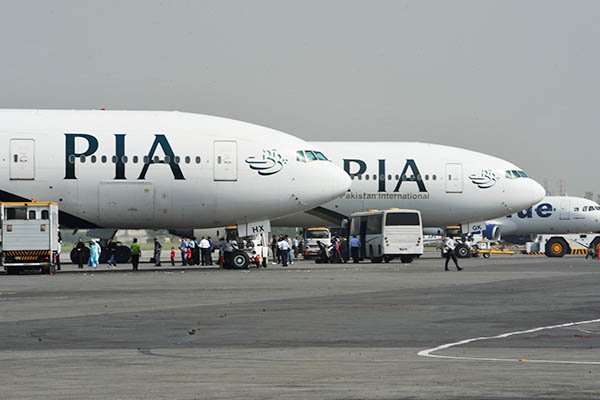 ---
KARACHI: In yet another red faced-moment for Pakistan International Airlines (PIA), authorities in the United Kingdom have detained at least five crew members of the national flag carrier on suspicion of smuggling mobiles phones and other unspecified illegal items.

Before the PIA flight PK-788 could take off from London for Karachi on Monday morning, the 14-member crew was stopped and its entire luggage was checked. The crew, except for five airhostesses and stewards, were allowed to operate the flight.

While no one from the UK Customs that carried out the search was available to share details, PIA spokesperson Aamir Memon said he was unable to confirm the reason for staff's detention.

"They will be coming back on a flight to Lahore tomorrow (Tuesday)," Memon said.

Contradicting television reports, he said no foreign currency or mobile phones intended for smuggling were recovered from the staff's possession.

"It was a routine check, which the UK Customs has been carrying out on multiple airlines," said Memon. "Unfortunately, none of that gets reported."

Read: Expanding operations: Fifth A320 aircraft joins PIA fleet

He was not able to identify previous instances where cabin crew or pilots of other airlines were detained or arrested.

From best to being convicted

The last few years have seen a rapid rise in the number of cases where PIA staff has been caught smuggling items including drugs, cigarettes, mobile phones, illegal passports and laundered money.

While in some instances the employees were caught at Pakistani airports, in others, they were intercepted and arrested in other countries, mostly in the European states.

Some of the  cases have even left PIA employees bewildered since they involved senior staff with otherwise good reputation.

Just recently, 59-year-old Shaukat Cheema, a senior flight steward, was jailed for five years by a British court for trying to smuggle fake passports and driving licenses.

"We're all wondering what pushed him to do such a thing. He was earning good money, his family lives in the UK and he was due for retirement next year," said a colleague.

Read: PIA steward jailed for five years over smuggling fake passports in underwear

"Maybe it's just greed or the employees are taking inspiration from all the wrong that goes around them in the airline."

PIA management has started cracking down on the rising trend of smuggling by air crews, terminating contracts of employees found to be involved in such activities. However, no effort has been seen to be made to figure out what has led to increase in number of such incidents.

Read: PIA: A case of stale bread

President of Pakistan Airlines Pilots Association (Palpa) Captain Amir Hashmi says he has written to management twice in recent months stressing on urgency to deal with the trend.

"It's quite embarrassing when the UK Customs lectures me," Hashmi said sheepishly, adding that "They say being a captain I should ensure the crew doesn't do anything illegal."

"They have even threatened to fine the airline."

There was a time when PIA employees took pride in their association with the national flag carrier, he said. "Wearing the uniform was a matter of privilege. But I guess our morale has plunged."

PIA has been marred by its financial woes. Accumulated losses of over Rs150 billion wiped off entire equity years ago, and now over 16,000 of its employees wait months for salaries and allowances.

Repercussions can be felt everywhere. The benefit of working on long international flights comes in the shape of a $3.45 per hour and meal allowance for cabin crew.

"Crew has been waiting for seven months for this allowance and all the while we are spending our salaries on food during layovers in other countries," said Nasrullah Afridi, a senior cabin crew member.

While despondency and unfulfilled promises could be one reason pushing employees towards drug trafficking and smuggling, something more sinister is also at play, officials say.

Tauheed Noorani, a senior PIA airhostess, was arrested and charged in the UK in April 2013 for smuggling heroin concealed in her laptop when she was also only months away from retirement.

"Someone she knew asked her to carry the laptop. Obviously that wasn't the first time she was doing it. But it's pretty usual to deliver things for a few thousand extra rupees," said a crew member who knows her.

Other PIA employees have also been 'framed' in a similar manner. In at least one instance, a child of a crew member was kidnapped.

"Unfortunately, fear of reprisal keeps us from reporting these," he disclosed.

And it's not just the cabin crew. Heroin has been found tactfully concealed in in-flight meal-trolleys, which only the engineering department has authority to assemble or disassemble.

When it comes to drugs, even Pakistan's Anti-Narcotics Force admits challenges in busting what they believe is an organised gang, claiming that difficulties stem from the supply chain which is operated clandestinely.

At the same time, employees blame political interference and intruding role of unions, who basically decide who boards the next international flight.

"This is what everything comes down to – you pay the money, you get the trip with its allowances and also become a pawn," said a veteran employee, who wished not to be named.
COMMENTS (17)
Comments are moderated and generally will be posted if they are on-topic and not abusive.
For more information, please see our Comments FAQ