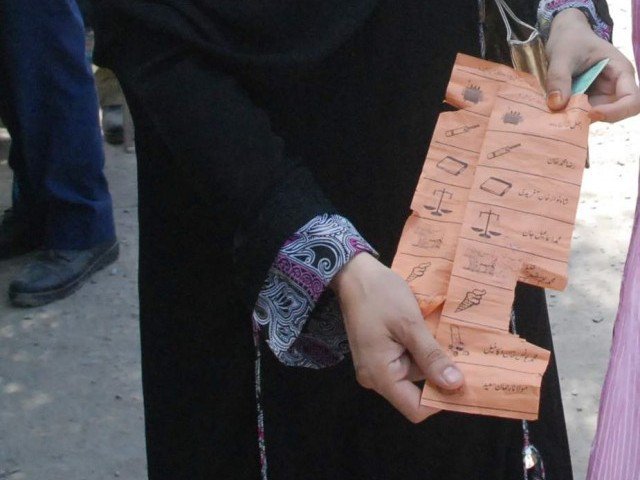 ---
We have come a full circle. Last year in August, the PTI was staging its dharna in Islamabad over alleged rigging in the 2013 general election. Now, it is under fire itself for pretty much the same issue. The guns are pointed towards its leadership as a tripartite alliance in the K-P assembly — made up of the ANP, the JUI-F and the PPP — is alleging that the local government elections held on May 30 in the province were rigged and that the K-P government should resign voluntarily since it was responsible.




It may be noted that the same parties had heavily censured the PTI's protests against malpractices of the 2013 general elections. They should now be thinking about their own. The PTI, too, needs to reflect as it looks back on the tactics used during the dharna. The issue needs to be examined level-headedly. The death of 11 people during violence in K-P and the unfortunate arrest of Mian Iftikhar Hussain, a senior ANP leader, do not help matters. But all the parties, the PTI and those in opposition, need to rise above this. They need to look at the election issue seriously and sensibly. We cannot continue in this fashion with one party protesting first, and then the next.

The entire system of balloting needs to be examined and improved. There are glaring flaws within it. The parties need to sit together, possibly with the ECP and other bodies involved and help work out a system acceptable to all. This is the only way to set things on the right path. The election process makes up the core around which our democratic system pivots. The need to fine-tune it, once and for all, cannot be emphasised enough. It must not contain loopholes which can lead to major allegations of rigging. There is at the same time, a need to observe the ethics of democracy at a behavioural level, which calls for greater discipline amongst parties so that they can work together, avoid violence and make sure that the process of placing votes in boxes is a calm and peaceful one, rather than an event filled with turbulence, followed by even greater turmoil. The fact that this turmoil breaks out so regularly is disturbing.

Published in The Express Tribune, June 9th,  2015.

Like Opinion & Editorial on Facebook, follow @ETOpEd on Twitter to receive all updates on all our daily pieces.