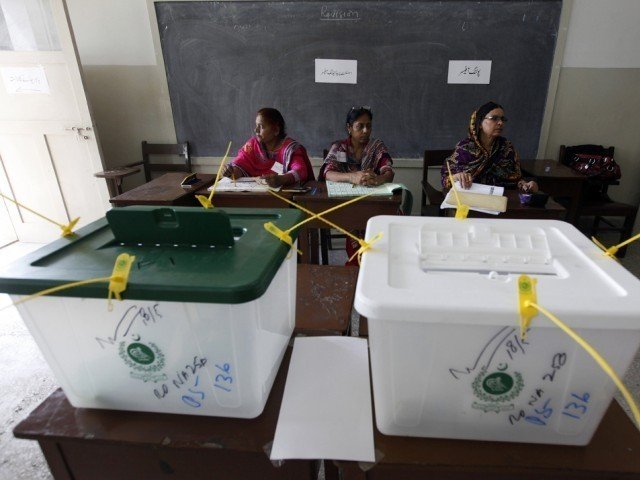 ---
HARIPUR/ PESHAWAR: Candidates have continued to voice concerns over rigging in the recently-concluded local government elections in the province.

Nearly a dozen news conferences were held at Peshawar Press Club (PPC) on Thursday. Speaking at PPC, Shahzad Mastikhel, a candidate of Kotla Mohsin Khan union council 32 said he did not win the polls owing to widespread rigging.

"I demand re-elections under the army's supervision," he said. "My party, Pakistan Tehreek-e-Insaf, conspired with miscreant elements to make me lose the election. I will approach the court about this matter."




JUI-F candidates from Tajazai union council in Lakki Marwat also rejected the results and demanded re-polling under army supervision. They said PTI and PPP had rigged the polls in the region and police and polling staff were in cahoots with them.

Pakistan Muslim League-Nawaz candidate Noor Mohammad and other candidates from the party accused PTI of rigging and said that they did not allow women to vote for them.

Candidates from Wadpaga UC 69 said a majority of bogus votes were polled in their constituency. Malik Lal Sher, an independent candidate, demanded polls under army supervision.

"PTI candidates have set new records of rigging," he said. According to Sher, votes polled for other candidates were discarded by PTI workers. He said they would protest if their demands were not met.

Mass demonstration

PML-N K-P President Pir Sabir Shah led a protest in Haripur on Thursday against alleged rigging in local bodies' elections in Khyber-Pakhtunkhwa.

Participants held a rally from Khalo village to the offices of returning officers. They shouted slogans against the Pakistan Tehreek-e-Insaf-led government. Speaking to protesters, Shah insisted widespread rigging had taken place during the local bodies' elections.

"This is the worst example of rigging in the history of the country," he said.

The PML-N provincial chief accused the provincial government of having double standards.

"It held protests against the government in Islamabad last year over widespread rigging by the federal government in the 2013 general elections," he said. "On the other hand, the PTI-led government has broken all records of manipulating the results of the elections."

According to Shah, widespread rigging has deprived other candidates who were genuinely willing to serve the people of an opportunity to make a difference. The provincial chief said rigging allegations are likely to weaken the PTI government's credibility.

"The govt should step down without any delay," he added. Shah demanded re-election across the province and urged the relevant authorities to take action against those responsible for malpractice.

Published in The Express Tribune, June 5th, 2015. 
COMMENTS
Comments are moderated and generally will be posted if they are on-topic and not abusive.
For more information, please see our Comments FAQ