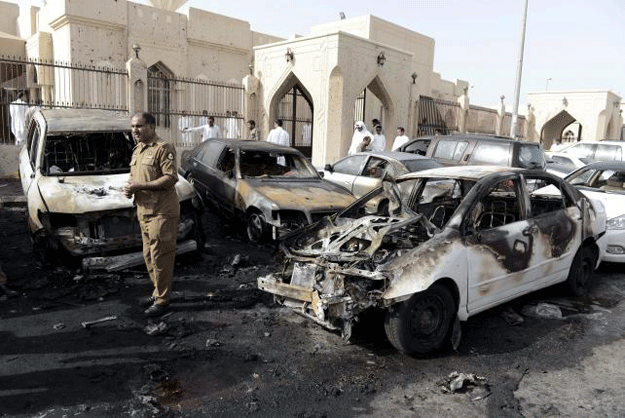 ---
DUBAI: Saudi Arabia offered a cash reward of SR5 million for information leading to the arrest of 16 people it said were involved in two deadly mosque bombings claimed by Islamic State, the Interior Ministry said on Wednesday.

The ministry also offered SR7 million in reward for tips that would thwart any future attacks, according to a statement published by state news agency SPA.

"Anyone dealing with the wanted men will be held accountable," the ministry warned.

Read: Saudi Shias bury bomb victims amid fears of more attacks

A suicide bomber disguised as a woman blew himself up on Friday outside a Shia mosque in the city of Dammam in eastern Saudi Arabia, killing himself and four other people.

The interior ministry identified the bomber as a Saudi citizen, 20-year old Khalid al-Wahbi al-Shemmari.

A week earlier, another suicide bomber blew himself up at a Shia mosque in the nearby village of al-Qadeeh, killing 22 people.

The ministry published a list of sixteen men and their photographs on state TV, saying they were involved in the two attacks.

Read: Deadly Friday: IS bombs second mosque in Saudi province

Islamic State, a hardline Sunni militant group based in Iraq and Syria, claimed responsibility for both attacks. The group has said it wants to drive out all Shi'ites from the Arabian Peninsula and urged young men in the kingdom to join its cause.

The bombings in Saudi Arabia come as wars with sectarian overtones ravage Iraq, Syria and Yemen -- stoking tensions between Sunnis and Shias throughout the region.

Some clerics in Saudi Arabia, the birthplace of Islam and mainstay of its Sunni denomination, are deeply hostile toward Shias, whom they regard as apostates.

The Kingdom is also part of an international coalition bombing Islamic State targets in Iraq and Syria, and the organization has threatened to launch revenge attacks.

Saudi and Gulf governments fear that the wars in the region, in which their Sunni allies are fighting groups close to Shia archrival Iran, will radicalize their citizens and undermine their security.
COMMENTS
Comments are moderated and generally will be posted if they are on-topic and not abusive.
For more information, please see our Comments FAQ