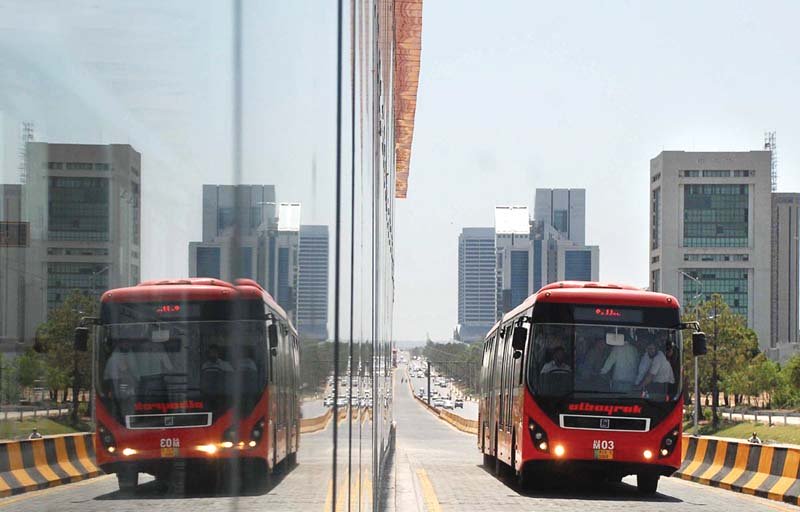 ---
ISLAMABAD:



Amid much fanfare, Punjab Chief Minister Shahbaz Sharif on Monday announced that the prime minister will inaugurate the Rawalpindi-Islamabad Metro Bus Project "in the coming days".




Nearly 150 senior journalists from across the country were invited by the federal information ministry to visit the site and were later briefed on the project followed by a lavish lunch at the Punjab House.

Later, addressing a news conference, Sharif said the project was delayed by six months due to the sit-ins by Pakistan Tehreek-i-Insaf and Pakistan Awami Tehreek in Islamabad.

"It's a national project as people belonging to all four provinces, Gilgit-Baltistan and AJK are living in Islamabad and Rawalpindi and they will benefit from it," Sharif said, adding though the project was delayed beyond its original deadline, it was still completed in 'record time'.

He said the project was completed within the approved cost and all service and other contracts were awarded following competitive bidding.

To a question that the bus' route does not cover thickly populated areas of the twin cities, Sharif informed that the route was selected following feasibility study for a mass transit system for the twin cities conducted by Nespak. He said as per the study, nearly 130,000 people daily travel on that route.

He said those who were opposing the project live in 'a fool's paradise' as the project would provide state-of-the-art and international standard transportation service to the public. The chief minister said despite opposition from various political parties, the PML-N government would continue to 'serve masses as per the vision of Pakistan's founders'.

He said to make the project a success, new routes would soon be introduced to support the metro bus.

To a question that buses stations made up of glass would be vulnerable to any protest gathering or mobs, the chief minister said the project itself would anguish the deep public anger as it would bring an end to travelling-related miseries of poor people.

The CM was asked if the project would benefit the government in the upcoming local bodies polls, he said it was not so as the people of Pakistan had already given PML-N the mandate to take decisions in their greater interest in the 2013 general elections.

Regarding reports that the PML-N government ignores chief ministers of other provinces while making important visits abroad, Sharif said during the last government of PPP, he was never included in foreign delegations but he never complained about it.

At the event, the media was informed that the federal government would bear Rs3 billion — the cost of the Peshawar Morr interchange of the project while the remaining cost would be shared on a 50:50 basis between the Punjab and federal governments.

Several politicians, government officials, local students and journalists travelled between the Pak-Secretariat and Saddar stations on the metro bus as well.

Published in The Express Tribune, June 2nd, 2015.