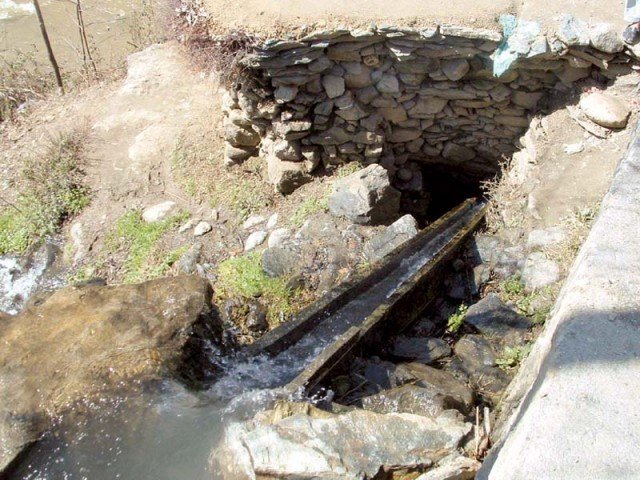 ---
MUZAFFARABAD: Arshad Rashid thinks he has an answer to his country's energy shortages.

For a few hours a day, a few days a month, the villager in Katahi, about 50 kilometres outside of Muzaffarabad, the capital of Pakistan-administrated Kashmir, grinds maize and wheat with a watermill.

But he sees untapped potential in his century-old mud-and-stone mill, which sits idle most of the time.

He wants to use it to generate free, clean electricity.

Arshad, 38, is one of hundreds of millers in Pakistan who make a living using watermills, or "jandar", built along brooks and streams.

If each of these mills were connected to a small-scale turbine, Arshad believes, villages could become energy self-reliant, helping bring an end to the long power outages that have sparked violent protests across Pakistan and his region of Azad Jammu and Kashmir (AJK) over the past few summers.

"Water channeled for watermills can be used to produce electricity for a whole village," said Arshad, who got the idea after seeing a nearby hydroelectric power station that runs on massive turbines.

Any surplus energy generated could be sold to the government to feed into the national grid, he added.

By May, with the hot weather starting to bake Pakistan's plains, the country was already facing an energy shortfall of 5,000 megawatts.

AJK also regularly suffers from crippling power shortages, despite producing more energy than it consumes, as energy generated in AJK goes into Pakistan's national grid, making AJK vulnerable to national load shedding plans.

"Our requirement is 300 megawatts of electricity for the whole of AJK, while production is 1,133 megawatts," Fayyaz Ali

Abbasi, AJK Energy Secretary, told the Thomson Reuters Foundation.

Prime Minister Nawaz Sharif's government has assured the country that the electricity crisis will be resolved by 2018, when it hopes to have completed a series of energy mega-projects that could add several thousand megawatts to the national grid.

But instead of focusing on large power projects, said Arshad, governments and NGOs should be helping millers install small energy  production alongside their jandars.

"It would require a maximum investment of $5,000 on the turbine, the motor and the pipe," he said.

So far, however, no help has come, he said.

Small projects, big benefits?

Some millers have taken it upon themselves to harness the potential of their watermills.

Two years ago, Maskeen Qureshi, who lives in the Kohori Tarari hamlet near Muzaffarabad,

installed a homemade turbine and a small transferring motor alongside his jandar.

Maskeen's son helped him make and install the turbine, while a neighboring village leader gave him a small-capacity motor.

The generator is connected to lights by copper wiring recycled from telephone cables.

The whole project cost Maskeen $500, he said.

The energy his turbine produces lights the mill and a half-dozen houses, all for free.

"The turbine uses one-fourth of the water required to run the watermill, and generates enough to light our homes and charge our cellphones," said Maskeen, 75.

He estimates that with another $1,000 he could fix the turbine to a concrete base and install a higher capacity motor to create a permanent installation that would provide electricity to all 18 houses in the village, day and night.

"If anyone [in government] can help us with this, we would be thankful," he said.

According to Sardar Muhammad Rafique, assistant director at the State Earthquake Rehabilitation and Reconstruction Agency, installing small waterpower projects on streams and tributaries in AJK could ease both the country's energy troubles and one of its biggest environmental issues.

As well as lightening the load on the national grid, the move would help slow the destruction of regional forests, he said.

"Electricity generation through watermills and small projects will ultimately reduce pressure on the forests which are being cut down for wood fuel," Rafique said.

When pressed about the energy potential of watermills, AJK

Minister for Finance Chaudhry Latif Akbar said the government is ready to finance any initiatives involving local communities as stakeholders and said he would ask the Planning and Development Department to look into the best way of doing that.

But for now, millers like Arshad who want to turn water into power are on their own.

They are frustrated with the lack of progress.

"Thousands of megawatts of electricity could be produced through the vast spread of watermills along with technical and financial assistance to villagers," Arshad said.

"But neither the government nor the private sector are taking any steps to promote this environmentally friendly traditional industry."
COMMENTS (2)
Comments are moderated and generally will be posted if they are on-topic and not abusive.
For more information, please see our Comments FAQ