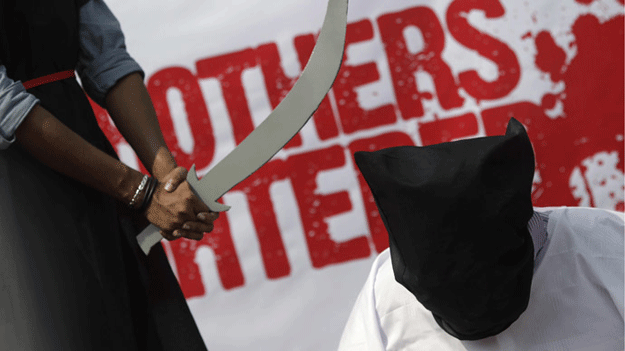 ---
RIYADH: Saudi Arabia beheaded a convicted murderer on Wednesday in its 89th execution this year, adding to a toll that has already overtaken the total for all of 2014.

Fahd bin Hussein Daghriri was found guilty and sentenced to death for his role in the murder of a fellow Saudi citizen, the interior ministry said in a statement carried by the official Saudi Press Agency.

Read: 10 Pakistanis executed in Saudi Arabia over the year

Authorities carried out the execution in the southern region of Jazan.

According to an AFP tally, Daghriri brings to 89 the number of locals and foreigners executed in the kingdom this year, despite activists' concerns that trials are not conducted fairly.

The Islamic kingdom executed 87 people in 2014, according to AFP's count.

Read: Jobs in Saudi Arabia: 'Executioners' wanted

Under the Gulf nation's strict version of the Sharia law, drug trafficking, rape, murder, apostasy and armed robbery are all punishable by death.

Executions are carried out in public, mostly by beheading with a sword.