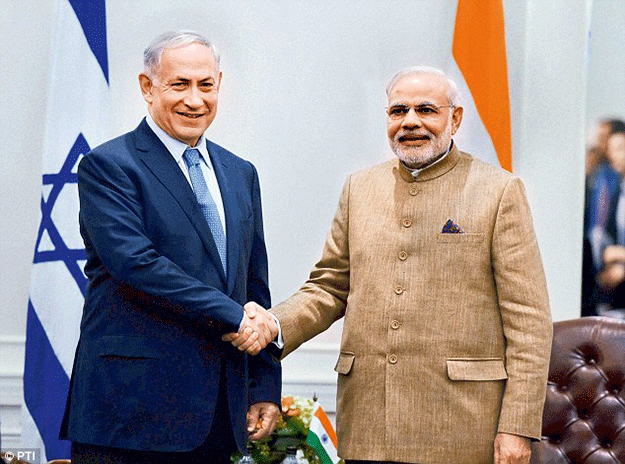 ---
NEW DELHI: India and Israel are in the final stages of signing another military project which would further bolster the already expansive but secretive defence cooperation between the two countries since the 1999 Kargil conflict, Times of India reported.

Sources from the Indian defence ministry revealed that the contract negotiation committee has almost sealed the joint development of a medium-range surface-to-air missile system (MR-SAM) for the Indian Army through collaboration between DRDO and Israeli Aerospace Industries.

Read: India, Israel PMs pledge stronger ties in rare meeting

With deals between the two countries already amounting to around $10 billion over the last 15 years, Israel is among the top defence suppliers to India, supplying a range of spy and armed drones, sophisticated missile and radar systems.

Israeli Defence Minister Moshe Ya'alon, in his recent visit to India in February offered the advanced Iron Dome interceptor, which was used to intercept the scores of rockets fired into his country last year; for Prime Minister Narendra Modi's Make in India policy.

"More orders might later follow since the Army's air defence capabilities are relatively weak," a source said.





PHOTO: TIMES OF INDIA


The DRDO-IAI-BDL model is identical to the SAM projects already under way for the Navy and Indian Air Force (IAF), which are together worth around Rs 13,000 crore. While the interception range of IAF-Navy versions is 70-km, the one for the Army will be 50-km.

Such SAM systems are "area defence weapons" that locate, track and destroy incoming hostile aircraft, drones, missiles and helicopters. They are the advanced versions of the Israeli Barak-I "point anti-missile defence systems" with a 9km range, which were fitted on 14 Indian warships several years ago.

There have, however, been new projects which have been faced with several delays.

Read: Eyeing Arab ties, Israel to observe nuclear pact meeting

It was only recently that an Indian warship was gearing up for the test firing of the SAM system for the first time. The home on target tests were completed in Israel last year and other projects are also to be commission later this year. Similarly another SAM project sanctioned in February 2009 has had its completion date pushed back to August 2016.

This article originally appeared on Times of India
COMMENTS (29)
Comments are moderated and generally will be posted if they are on-topic and not abusive.
For more information, please see our Comments FAQ