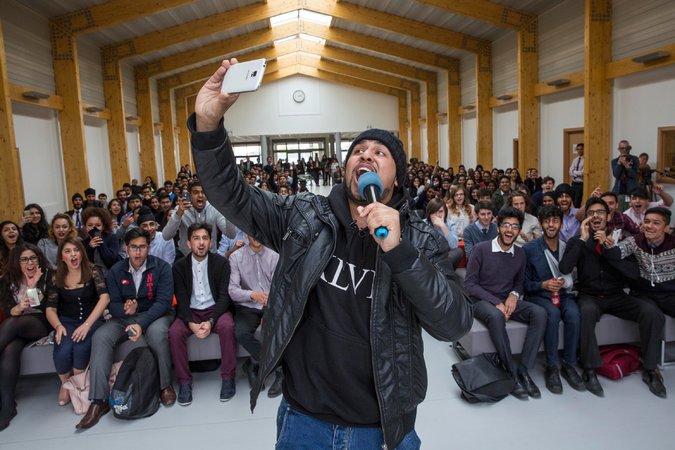 ---
In a rare move to prevent British students from fleeing to Syria, Pakistani-British comedian Humza Arshad has been touring schools to counter extremism with comic relief.

"Have you noticed how in those terrorist videos they're always sitting on the floor?" Arshad asked a group of high school students. "What's up with that? I swear they can afford a chair."

Commenting on their pants, Arshad while pointing to his shin mocked, "Always coming up to here." Adding, "like, did you borrow this from your little brother or something?"

The 29-year-old practicing Muslim who regularly pokes fun at Pakistani accents, football fans, his weight and militants, has been on tour with the counterterrorism unit of the Metropolitan Police.

They have already taken their "ten percent message, 90 percent comedy" campaign to more than 20,000 students in 60 high schools across London.

Schools in London have been on high alert after three girls flew to Syria to join the militant group, Islamic State. Further, about 700 British Muslims have traveled to Syria, including dozens of minors.

One of the girls who fled was Arshad's friend's sister.

"I wish I could have prevented my friend's sister from going," the 29-year-old told the packed auditorium at a west London high school in one of the rare serious moments during the stand-up show.

But for the most part he joked about converts with "beards to their belly buttons" and terrorists having dry ankles "from all that sitting on the floor" as he continued, "Listen, I'm here for two reasons."

"No 1, I'm a British citizen, and I'm proud of where I'm from. No 2, I don't want people losing their lives. That's not what Islam is about," he added.

"But there are some misguided individuals who are giving us a bad name," Arshad continued. "We all have to do our part."

Arshad, who has 'pray' as the first item listed on his to-do list on a white board as seen in the backdrop of many of his YouTube videos was asked by a student why he always wears a beanie.

"It's like the male version of the hijab," he shouts back. "This is the man-jab, know what I mean?"

At one point during his stand-up at the auditorium, the fire alarm went off and not missing any opportunity, the comedian said, "Terror attack! ISIS!"

An official of the Counter Terrorism Command, who held the session with Arshad said it is a message police officers find harder to communicate.

Becoming a comedian

Arshad, who claims he first discovered stand-up as a 10-year-old watching American shows is set to fly to New York and Los Angeles to hold exploratory talks with American schools on his counter-extremism work.

Born and raised in south London, Arshad saw how perceptions of Muslims changed following the 9/11 teror attack.

He decided to create his own show on YouTube in September 2010 after he uploaded a video of him complaining about his mother that went viral.

This article originally appeared on the New York Times.
COMMENTS (1)
Comments are moderated and generally will be posted if they are on-topic and not abusive.
For more information, please see our Comments FAQ