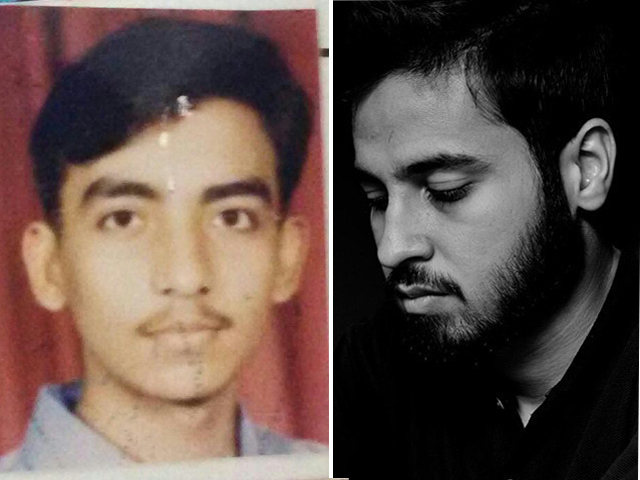 ---
KARACHI: In the fall of 2010, Saad Aziz walked up to a fellow student in IBA's parking lot and asked: "Have you read Milestones by Sayyid Qutb? It has changed my life."

Qutb, who is now increasingly cited as the figure who influenced al Qaeda leader Osama bin Laden, is known as one of the most influential advocates in modern times of jihad.

The 'change' in Saad's life, as narrated by some of his friends at IBA, began sometime in his third year at IBA. Fast-forward five years and the 27-year-old IBA graduate was named by Sindh's chief minister as the mastermind behind the deadly Safora carnage and murder of activist Sabeen Mahmud in Karachi.

Read: Protesters demand formation of judicial commission to probe Sabeen Mahmud murder

Friends recall that Saad was a 'normal' kid. He played football for IBA United and had a GPA above 3.0.

"For the first two years, he was a burger kid. He had girlfriends and we would have shisha at Indulge. He was funny, acted in plays and danced," said a young man who was once a close friend.

But that all ended in his third year and his friends began noticing the radical nature of some of the changes Saad made in his life. He stopped talking to girls, began bunking classes and grew his beard out. He also dropped his old friends and began hanging out with religious-minded people from IBA's Iqra Society.

After graduation, Saad lost touch with his friends. "He went somewhere for a few months. Someone said he had gone for jihad training," said another friend.

"We knew he had gone off-track. He was not part of the Tableeghi Jamaat. He had become part of something else."

In the year 2013, around eight 'like-minded' IBA graduates from the 2010 and 2011 batches began publishing an online magazine, titled 'Al Rashideen' [The Rightly Guided] in English.

Saad, who had expertise in producing different kind of pro-al Qaeda and Taliban media, was a part of its editorial team. "We present you this first issue of Al Rashideen," he wrote under the screen-name 'the editor's desk'.

"We hope this to be a platform where relevant issues facing the Ummah are studied and analysed upon by students of colleges and universities, and Muslim youngsters whose first or second language is English."

The first issue of this amateurishly-designed magazine, a copy of which is available with The Express Tribune, had "Iran must fall before Palestine can be liberated" as its cover story along with other disturbingly radical content. For instance, a sectarian speech made by Haq Nawaz Jhangvi , who founded Sipah-e-Sahaba in the 1980, was translated and reproduced with the title 'The men who rocked Kufr'.

Saad, who did his O-levels from Beacon House and A-levels from Lyceum, is married and even has a baby daughter. He belongs to a well-to-do family; his father was once a director at Unilever, while he himself owns a restaurant.

Read: Arrested Safoora attack mastermind behind Sabeen's murder: Sindh CM

At the Cactus

At the restaurant Aziz owned, employees refused to believe that he could be involved in such heinous acts of terrorism.

"We can't believe that he is a terrorist," said a waiter at the Cactus, a restaurant which serves steaks, burgers and fries in Karachi's Sindhi Muslim area. Formerly known as Kahva, the restaurant was taken over by Saad around two years ago.

Abdul Ahad, in-charge of the delivery for the restaurant, said they never saw him doing anything suspicious. "No one came to meet him, and we never saw him speaking to anyone suspicious."

The employees saw him every day save Sundays. He came in late afternoon and left at night. "If he is involved in such activities, they should give proof."

Police version

According to DIG South Jamil Ahmed, Saad had attended a number of T2F sessions. "He would not seem out of place because he seemed educated."

However, it is yet to be confirmed whether Saad was present at the Balochistan session after which Sabeen was murdered.

"The terrorists belong to al Qaeda's India branch. The group is using educated people to carry out bold and atrocious attacks."

Al Qaeda subcontinent is a splinter group, a mixture of al Qaeda and Hizb ur Tahrir. "Hizb ur Tahrir is not violent but this group is using their ideology and literature," said DIG Ahmed.

A joint investigation team probing the suspects will divulge further details soon, he said, adding that the terrorists belonging to this group are "computer literate with good degrees and 9mm and Kalshinkhovs."

Mohammad Azhar Ishrat – the 'ambulance'

Another suspect, Muhammad Azhar Ishrat was paving his way to the top. His colleagues were left in utter disbelief when news broke of his involvement in the recent terror attacks.

"I'm finding it hard to believe since he is an extremely bright individual and an expert in his line of work," a colleague told The Express Tribune.

"I never noticed any extremist tendencies in his behavior," he added.

"Though he was very religious and had grown a Shahid Afridi-like beard, he was very accommodating to the views of others," the colleague said.

Read: Macabre violence: Ugly face of terror

Ishrat graduated in electronic engineering from the Sir Syed University of Engineering and Technology (SSUET) in 2004. Before that he had completed his Intermediate from the Defence Authority Degree College for Men.

After graduation, a promising future lay ahead of Ishrat as he secured his first job at one of the largest engineering conglomerates, Siemens Pakistan, in October 2004.

"At Siemens, they used to call me 'ambulance'," Ishrat shared on his LinkedIn profile. "I was known for my pace of work and was usually deployed for saving projects that lagged behind their timeline or were about to cross the budget."

Exactly a year later, the country's first GSM-based cellular operator, Mobilink, recruited him.

After working as a radio-frequency planning engineer for around four years at Mobilink, he was promoted to the position of radio access network (RAN) team-head in the South region, comprising Sindh and Balochistan, a colleague confirmed, while requesting anonymity as he was not authorised to disclose any information to the media.

But it all changed on Wednesday after Sindh Chief Minister Qaim Ali Shah announced Ishrat was involved in an attack on the Ismail community in Karachi and a number of other high-profile attacks, including the murder of Sabeen Mahmud.

Shah said Ishrat had been involved in terrorist activities since 2011, with expertise in making bombs and electronic circuits used as timers in such bombs.

Police officials from intelligence agencies visited Ishrat's alma mater Thursday morning where they held an hour-long meeting with Vice Chancellor Dr Syed Jawaid Hassan Rizvi, Varsity's Registrar Syed Abrar Ali and other officials.

"Their prime interest was gathering information on his academic record as well speaking to his batch mates and friends," an SSUET official told The Express Tribune.
COMMENTS (54)
Comments are moderated and generally will be posted if they are on-topic and not abusive.
For more information, please see our Comments FAQ