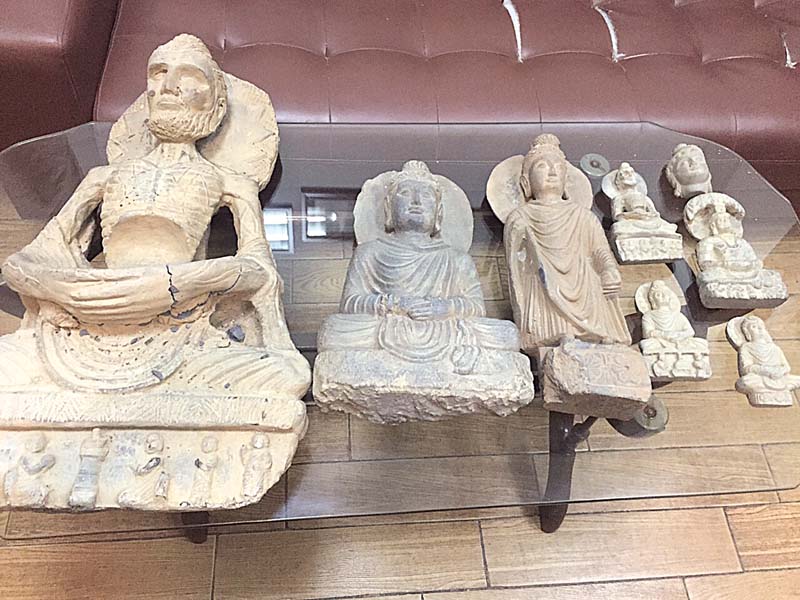 ---
ISLAMABAD: Customs officials on Tuesday held a passenger with a Gandhara-era artefact from Benazir Bhutto International Airport (BBIA). 

Khan Zafar Ali, a Pakistani-origin German national, was carrying eight statues of Buddha. The passenger was booked for Turkey on a private airline but was intercepted and taken into custody after the statues were found in his luggage.

The artefacts were sent to the Department of Archaeology and Museums, which said one of the statues was an original Gandhara-era artefact, while the rest were replicas.

A customs official said the original statue was worth Rs1 million locally and around Rs1 billion in the international market. "Mixing originals with replicas is a popular trick among smugglers of archaeological artefacts," he said.

The Gandhara civilisation existed in what is now the Potohar region, Khyber-Pakhtunkhwa and Afghanistan from 1500 BCE to around 500 CE.

BBIA Customs Deputy Collector Naveedur Rehman Bugvi said the suspect has been arrested and an FIR registered against him under various sections of the Antiquities Act. The suspect claimed to have purchased the artefacts. Bugvi said customs prosecution will investigate the case.

National College of Arts Rawalpindi Director Dr Omar Nadeem Tarar said that Gandhara artefacts and their replicas were in high demand in the international market. He said a large number of statues have been smuggled out of the country in the past.

Tarar also called for amending the colonial-era antiques act and legalising the sale and purchase of replicas. This way, he said, the government can generate revenue.

In November 2013, customs foiled a bid to smuggle 150 ancient silver and copper coins through the same airport.

Published in The Express Tribune, May 20th,  2015.
COMMENTS (2)
Comments are moderated and generally will be posted if they are on-topic and not abusive.
For more information, please see our Comments FAQ