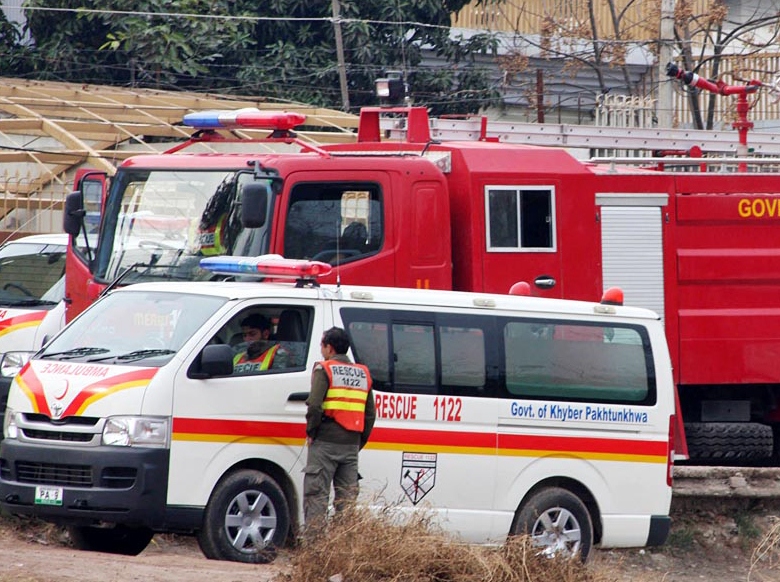 ---
PESHAWAR: A mock emergency drill was conducted on GT Road in the provincial capital on Sunday to ensure rescue teams were prepared to deal with any eventualities during the local government elections.

Rescue 1122, Pakistan Army and Edhi Centre participated in the drill. The drill was initially conducted inside a building between 9am and 10am while the remaining 30 minutes of the exercise was conducted outdoors on GT Road. One side of the road was blocked for the drill.

During the mock drill, Pakistan Army also monitored the response time of Rescue 1122 officials from three different locations – including Kohat Road and Saddar – in the event of an emergency.

Speaking to The Express Tribune, a Rescue 1122 spokesperson said participants were specifically told not to flout security protocol, even in the event of an emergency.

"We were instructed to go through a full-body scan and have our vehicle checked before entering an area to conduct rescue work," he said. "This will ensure no terrorist takes advantage of the situation."

According to the spokesperson, rescue teams also conducted a mock drill to evacuate injured persons and the deceased from a building which had come under attack.

A similar drill was conducted in Saddar two days ago by the police and army.

Search operations

At least two proclaimed offenders were nabbed while 44 others were arrested on suspicion during a search operation in Waliabad on early Sunday. The operation was conducted by Pakistan Army and police after midnight.

Police and army officials, backed by teams from the bomb disposal unit, conducted a door-to-door search.

"This was a routine operation and we recovered three AK-47s, six pistols and one repeater," said a police official.

In a separate incident, at least 24 people were arrested in a search operation conducted in Phase 6, Hayatabad at midnight.

Published in The Express Tribune, May 18th, 2015.