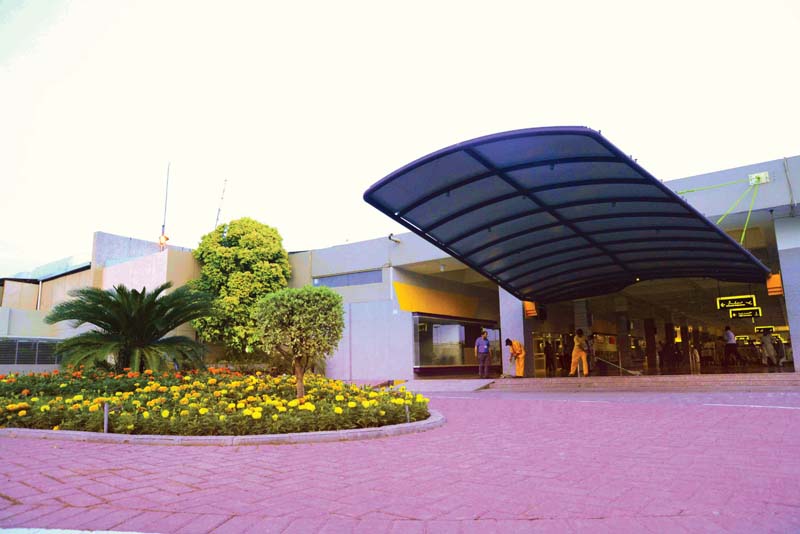 ---
ISLAMABAD: The capital's Benazir Bhutto International Airport is ready to greet passengers with enhanced facilities after a recent renovation project.

Prime Minister Nawaz Sharif will be inaugurating the newly-installed facilities at the capital's only operational airport that was declared among the worst in the world in a survey conducted by "The Guide to Sleeping in Airports" just a year back.

The new airport for Islamabad is slated to be completed by the end of 2016, at best. Meanwhile, authorities were apparently awakened by the criticism the existing airport's has always attracted for its inability to facilitate passengers. International visitors compare it to a bus station rather than a capital's only airport.

Officials have spent Rs400 million and completed the much-needed renovation and expansion work in less than nine months. The renovation work gives worth to the value of money spent on it — provided the relevant departments can maintain standards.

As a follow-up to a visit of media persons when the renovation work started, officials of Civil Aviation Authority showed journalists the accomplished tasks before the visit of the premier on Monday (today).

A well-marked parking lot for visitors, a new fast-track building, clean waiting areas and attractive horticulture now greets visitors as compared to a remote region's decrepit bus stand that welcomed travellers before.

The shifting of the parking lot for staffers to an adjacent vacant plot has led to a capacity to park 700 cars for visitors. Where only four toilets were available for visitors in the parking area, 16 'modern' toilets have been built, while as many new ones in the departure lounges.

The concourse area has been thoroughly refurbished with state-of-the-art screens, signboards and paintings depicting the country's culture.

Business lounge and new check-in facilities

What was referred to as the Rawal Lounge, reserved for VIPs, has been converted into a 'business lounge'. However, only officials' entitled to VIP protocol will continue to avail the facility.

Passengers travelling on business class will be facilitated at separate counters set up in domestic and international departure for boarding.

After getting their boarding cards, business class passengers would be able to enjoy amenities at the refurbished lounge where a dining area had been reserved for beverages from a five star hotel chain.

Not only has the number of check- in counters increased at domestic and international departure lounges, but the worn-out counters have been replaced by newer ones.

A simple yet fundamental change at the departure longue is the placing of officials of Pakistan Customs, Anti-Narcotics Force and Airport Security Force at one counter. However, what remains to be changed is their modus operandi wherein they indulge in the archaic practice of physically checking luggage instead of adopting modern scanning techniques.

However, the fast-track facility and waiting areas for visitors near the parking lot at a distance from what would be a jam-packed concourse area is likely to help control the large crowds which had been the hallmark of this airport.

CAA officials also told reporters that a proposal to increase the parking fee was under consideration along with charges for extra visitors to enter the premises. Those using the fast track facility will not need to pay a penny.

New taxiway

In what should have ideally been done decades ago, the airport will now have a new patch of around 1,700 feet of taxiway. Being built at a cost of Rs200 million, the taxiway would save five to ten minutes on average for each aircraft at the time of landing or take off.

Using the new patch that would connect the main runway to the taxiway would make every aircraft vacate the runway immediately after landing. These planes now use more than half of the runway after landing to taxi.

An official at the economic regulation directorate of CAA told reporters this would save Rs1 billion a year in fuel costs in addition to extra time as more than 100 aircrafts had to wait to get access to the runway before.

Published in The Express Tribune, May 18th, 2015.