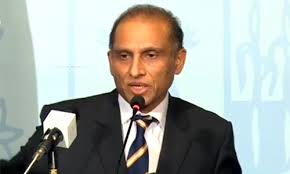 ---
ISLAMABAD: Foreign Secretary Aizaz Ahmed Chaudhry on Thursday claimed that India's spy agency RAW was involved in creating unrest in Pakistan, Express News reported.

He further said that two culprits arrested in Karachi have received training from the spy agency.

The foreign secretary said, if RAW was found to be behind the Safora massacre which led to the brutal killing of more than 40 members of the Ismaili community, Pakistan would take up the issue on all international forums.

The country's top military commanders have also expressed serious concern over the involvement of Indian intelligence agency, the Research and Analysis Wing (RAW), for "whipping up terrorism" in Pakistan.

Read: Corps commanders' conference: 'RAW whipping up terrorism in Pakistan'

The concern was raised during a corps commanders' conference presided over by Army chief General Raheel Sharif at the General Headquarters in Rawalpindi on May 5.

"The conference also took serious notice of RAW's involvement in whipping up terrorism in Pakistan," an Inter-Services Public Relations (ISPR) statement issued after the meeting read.

Furthermore, a senior officer of the Sindh police also alleged in a dramatic news conference that Indian military intelligence agency RAW trained the Muttahida Qaumi Movement (MQM) to create unrest in Karachi.

Calling the MQM more dangerous than the outlawed Tehreek-e-Taliban Pakistan (TTP), SSP Malir Rao Anwar called for banning the party.

Read: Dangerous liaisons: RAW trains MQM workers for unrest in Karachi, says SSP

SSP Rao paraded before the media two 'RAW-trained terrorists' – Muhammad Junaid Khan and Tahir Rehan alias Lamba – and claimed that they were affiliated with the MQM. Quoting from the 'confessional statements' of the suspects, he said: "The MQM is involved in anti-state activities."

RAW must not be allowed to use Afghan soil against Pakistan: FO

Meanwhile, Pakistan has asked Kabul not to allow India's top intelligence agency to operate from Afghan territory against Pakistan's interest, Foreign Office said on Thursday.

On their recent visit to Afghanistan, Prime Minister Nawaz Sharif and Chief of Army Staff asked Afghan authorities to stop the Research Analysis Wing (RAW) from creating unrest in Pakistan, said Foreign Office Spokesperson Qazi Khalil.

Read: Increasing bonhomie: Kabul's foe can never be our friend, says Nawaz

"Pakistan told Kabul that RAW must not be allowed to use the Afghan soil against us," Qazi Khalil was responding a question at a weekly Press Briefing at Foreign Office today.

To another question about alleged involvement of RAW in Pakistan's unrest, Foreign Office Spokesperson said there have been reports of Indian intelligence agencies' involvement in Pakistan's affairs in the past as well.

Regarding the Safora massacre which killed 45 members of Ismailia community, Khalil said investigations are still going on and it is difficult to determine who is behind this bone chilling incident.

Read: Macabre violence: Ugly face of terror

The ultra-extremist Middle Eastern terrorist group, the Islamic State, and its affiliate Jundullah claimed responsibility for the bus attack in Karachi.

English leaflets left in the bus were headlined "Advent of the Islamic State!" and used derogatory Arabic words, blaming the community for "barbaric atrocities … in the Levant, Iraq and Yemen".

However, Foreign Office ruled out the presence of Daish in Pakistan, backtracking on their earlier stance that the militant group poses a threat to Pakitan

"The terror outfit has no footprints in Pakistan but our security forces are alert to meet any threat," Khalil said in Thursday's briefing.

Earlier in February, Foreign Office said the militant group poses a threat to the country.

"The government is on alert to the IS threat in the region," Foreign Secretary Aizaz Ahmad Chaudhry said while briefing the Senate Standing Committee on Foreign Affairs in Islamabad at Parliament.

The foreign secretary further said the government has directed all concerned authorities to ensure that no organisation or individual remain in contact with IS in the country.