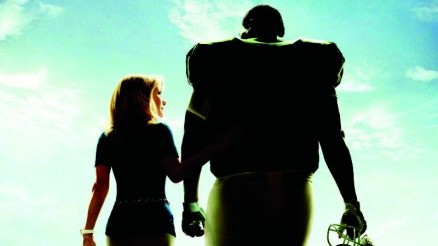 ---
Earlier this year, when Sandra Bullock won the Academy Award for Best Actress without the four horsemen of the apocalypse charging into Hollywood's Kodak Theatre to declare the onset of the Armageddon, one was naturally filled with curiosity regarding the film that elevated her from Girl Next Door, to Girl Next Door to Meryl Streep.

And here's an even bigger shocker – she wasn't so awful. The film, on the other hand, was like a Walt Disney fairytale, though considerably less gritty. The title is a sporting allusion referring to American football. Sporting metaphors are what passes as philosophy for Americans. The Blind Side is based on the true story of African American football star (or at least the story was true till it passed from book form through the digestive system of several Hollywood screenwriters) and his rise from the depths of poverty to sporting stardom through utterly inexplicable interception of good Christian matriarch Leigh Anne Tuohy, as played by Bullock.

The sports is a mere MacGuffin. This is a cockle-warming family drama about the rewards of enriching one's life by taking in a friendly stray dog off the street, and training it well. Only the pet is a poor, black boy from the projects, Borrowing heavily from depictions of Frankenstein's monster, gentle giant Michael Oher (Quinton Aaron) is the itinerant, unloved son of a vagrant and a crack mother. Carrying his belongings (a spare T-shirt) in a plastic bag with him, he is lumbering about after school one day when he is spotted by Bullock and family.

The Tuohy family inexplicably insists on taking Oher in for the night, blithely unconcerned with opening up one's home to complete strangers, and completely glossing over the rich vein of racism that has historically run through Memphis society. Oher finds himself homed, clothed, fed, and on the receiving end of a new wardrobe, an expensive car and ultimately, the status of formal adoption. The ghetto where he grew up and the gun-toting gangbangers from his 'hood are forgotten, and the moral of the story, one can't help but feel, is that even some black people can be nice, as long as they are utterly toothless and can adapt to the ways of middle class white families.

The Blind Side is the first feel good film I have ever seen where not once is the viewer encouraged to feel bad. There isn't, as can be expected with bringing a stranger into one's life, the slightest awkwardness. On Oher's part, there is only gratitude and unflagging loyalty. Even his one detractor, the crusty English Literature teacher, eventually succumbs to his charms. One can only applaud the director's restraint in not having the ensemble cast hold hands and break into a song and dance sequence, as it would not have seemed either out of place nor unrealistic given the rest of the film. Bullock, for her part, is imminently watchable, because her protagonist is a woman who couldn't possibly exist.

Whether she's effortlessly raising her family, running her business, shaming her high society friends or doing the football coach's work for him, Mrs Tuohy's character is as nuanced as Superman, and like Superman, the protagonist gets ten out of ten for good intentions and no points at all for veracity.
COMMENTS
Comments are moderated and generally will be posted if they are on-topic and not abusive.
For more information, please see our Comments FAQ