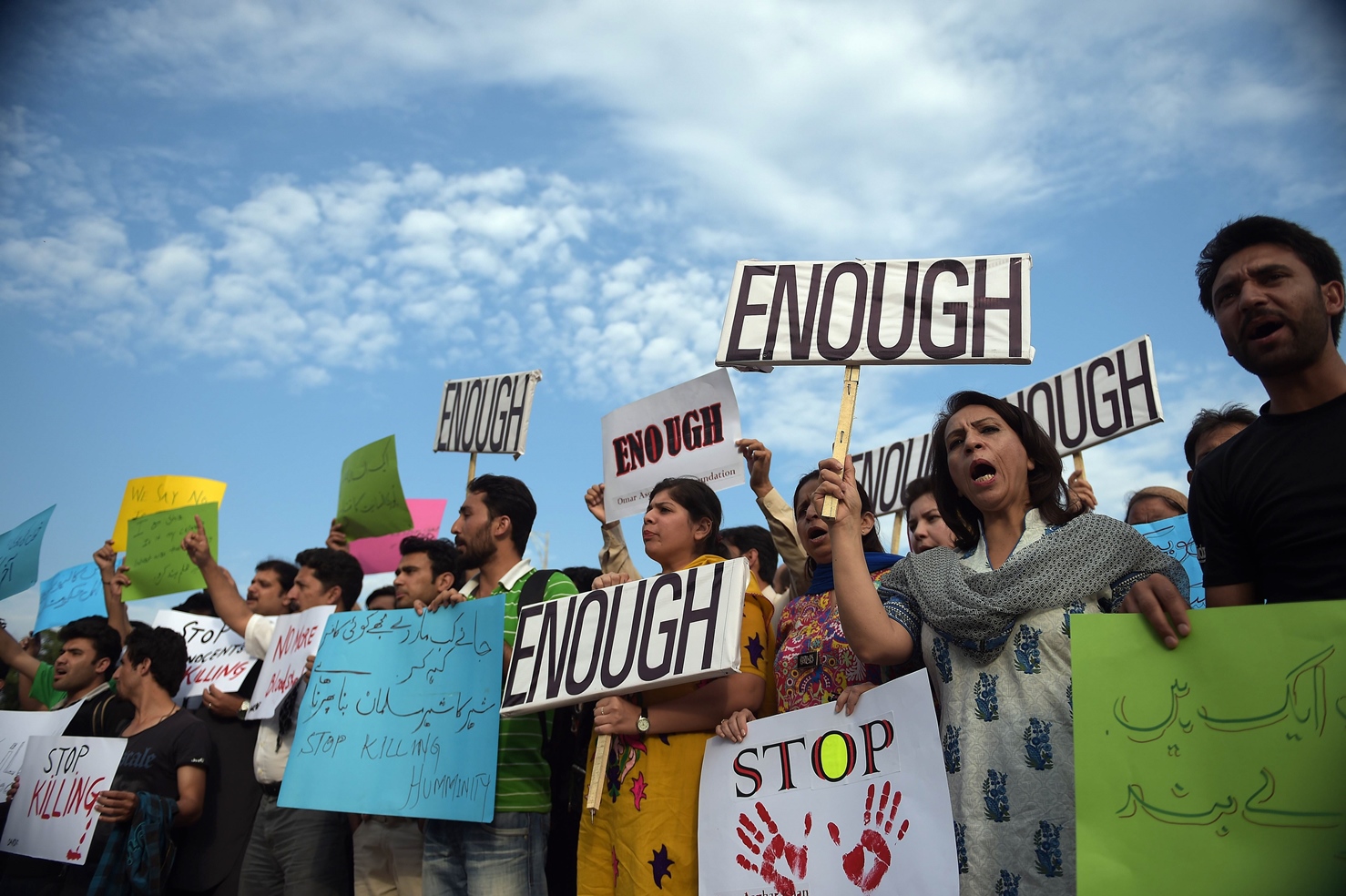 ---
KARACHI:



The children of alAzhar Gardens, a gated community of Ismailis, who went to school on Wednesday morning had no idea they will be received by grief-stricken parents on their return.




Several parents were huddled near the community's gates as the school vans started rolling in. But someone had already told the children about the tragedy and they jumped off the bus with looks of pure terror on their faces. "How many died?" a boy asked his mother.

A few minutes later, some mini vans brought the Montessori children in. These little ones had no idea what had happened. "Both the parents were on that bus to go to the market and both of them died," said one of the two volunteers who were patrolling on motorcycles inside the colony. "Their two kids are still at school."




The ill-fated bus used to come by every morning to drop off the residents at different points in the city so they could reach their workplaces or do the weekly shopping. "It mostly had young office-going people," said the volunteer.

"Around 500 families live here and all of them are mostly related," said the second volunteer with a Gujrati accent, explaining that they ended up skipping work as they heard of the attack before they could leave. "Humare saath deshtgardi huwee hay [An act of terror has been committed against us]."




Each residential block had small groups of people standing outside with occasional screams of crying women echoing in the air. A mother was heard wailing at a distance, her shouts echoing in the pathways that were designed to serve as communal spaces for the residents to sit down and relax with their neighbours.

By mid-afternoon, the funeral committee had started making arrangements for the burial of over 40 people from the community. The bodies will be buried at Sakhi Hasan graveyard and Essa Nagri graveyard today (Thursday) at 10:30am.

Community design

Home to the upper-middle-class group of the close-knit community of Shia Ismaili Muslims, the housing complex mostly includes Gujrati-speaking people who migrated from India after Partition. Built in 2004, the surroundings were designed in accordance with the inspiration driven from the architectural aesthetic and history of the Islamic Fatimid tradition, incorporating courtyards, chowks and muhallas in its design. It includes its own transport, academic and complex, parks and gardens and a marriage hall.




The colony was nominated for the Aga Khan Award for Architecture in 2007. A lot of thought had gone into design and architecture of alAzhar Gardens.

But the one overriding factor above all was cost of land, which is why the builders chose the mostly desolate area located off Super Highway for the project.

"Value of real estate was pretty low and the 30 acres these people could afford was available in KDA Scheme-33," said one of the architects.

"These are very peaceful people and they have done so much for the country," he said. "It's hard to believe someone could subject them to such brutality."

A project of Aga Khan Housing Society, the society has been designed to accommodate 5,000 Gujrati-speaking Ismailis. "All the residents can trace their roots to 26 villages in Indian Gujrat," the architect pointed out. "After Partition, these families moved to Pakistan and for decades, most of them are involved in the business of selling milk in Karachi."

The gated colony was designed in such a way that it ensured cohesion among the people. Pathways, pedestrian walkways, gardens and clinic — everything was built within the walls. It has been more than eight years since residents started moving in the colony and there are no signs of erosion, the architect said.

"They have maintained it excellently," he said. "Even the newest and most luxurious high-rises in Karachi would have ugly modifications, the air-conditioning grilles and leaking pipes but none of this happens in alAzhar Gardens.

Published in The Express Tribune, May 14th, 2015.
COMMENTS (2)
Comments are moderated and generally will be posted if they are on-topic and not abusive.
For more information, please see our Comments FAQ