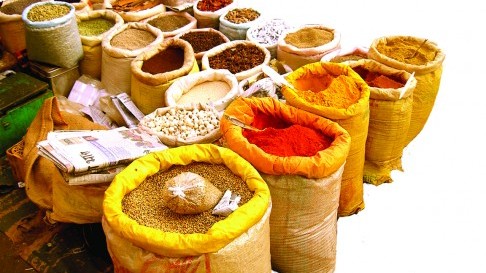 ---
Consider the prosaic aloo gosht: a seemingly simple, everyday dish, it needs skill and care to cook properly. Indeed, my son Shakir has set this as his yardstick to measure a chef's calibre. I am embarrassed to admit that thus far, I have not succeeded in attaining his standard. But more than technique, think of what goes into the dish: onions, garlic, ginger, cumin, coriander powder, chilli, turmeric, black pepper, cloves, salt, cardamom, cinnamon, yoghurt or tomatoes, fresh coriander leaves, and of course, the meat and potatoes.

Surely this cocktail of spices and herbs did not appear overnight. Chefs must have tinkered with the ingredients over a long period before the dish, and other similar Indian curries, evolved to their present delicious stage. But why has this innovation stopped, at least in Pakistan? Why aren't we continuing to improve and refine the flavours of our cuisine? Who put a stop to experimentation in the kitchen? Basically, when I eat desi food at restaurants, at my place in Karachi, or in my friends' homes, I get the same food I was eating as a kid. Don't get me wrong: the qorma and the mash-ki-dal are as good as ever. But it's all still the same.

To examine the state of our culinary landscape, we need to go back in time to see what influences have shaped it. When Indo-European semi-nomads first appeared in South Asia around 2000 B.C., they did not bring a tradition of fine dining with them: surviving on a boring diet of barley either fried, or boiled into a gruel, they were great consumers of milk and yoghurt. Their early beliefs evolved into Hinduism, although they ate beef until the advent of Buddhism and Jainism around 500 B.C. Indian traders exported cardamoms, pepper and silk to Rome over the Silk Route and via Egypt.

In the 8th century, Arab traders founded colonies along the Indian coast as their vessels sailed to China and Indonesia. A couple of centuries later, armed incursions from Central Asia and Afghanistan led to Muslim kingdoms in much of North India. The Portuguese circumnavigated Africa and began trading with India in the 15th century. All these conquerors and traders brought spices and recipes to India, mixing their cuisines with what they found locally to create a hybrid. Perhaps the biggest contribution made by the Portuguese was the introduction of chillies from South America in the 15th century.

This did more to transform the flavour of Indian cooking than any other single ingredient. Needless to say, our forefathers took to this new flavouring with great gusto. The Mughals loved their food, and brought in all kinds of techniques and flavours from Central Asia, Persia and the Middle East. Pulaos, biryanis, qormas and dopiaza are only a few of the dishes they introduced. The English imposed their version of Anglo-Indian fare on much of the subcontinent. Perhaps the highest level of refinement came from the kitchens of the nawabs of Lucknow and Hyderabad.

Great foodies, they took a lively interest in the dishes prepared in their kitchens by chefs who competed to produce the most original dish. One Lucknavi nobleman was rumoured to pay his chef the unheard amount of 1,200 rupees. Cooks flocked to Oudh to produce dishes of stunning originality and flavour, and were richly rewarded. Lizzie Collingham, in her masterly book Curry: a tale of Cooks and Conquerors, tells us that shami kebabs were invented in Asif ud Daula's kitchens after the nawab had lost his teeth. He had also grown so fat that he could no longer mount his horse.

What evolved was true fusion food: Persian influence led to marinating meat in yoghurt; cream was added in Lucknow to produce unctuous qormas; and chillies found their way into aristocratic kitchens from the south. According to the historian K.T. Achaya, quoted by Colleen Taylor Sen in her short but informative book Curry: a Global History: "To the somewhat austere Hindu dining ambience, the Muslims brought a refined and courtly etiquette of both group and individual dining.

The Muslims influenced both the style and substance of Indian food." In his account of Akbar's reign, Abu'l Fazl 'Allami has recorded some 30 recipes from the imperial kitchens. Most of them are still cooked today. For instance, the ingredients he gives for dopiaza include: 10 seers meat; two seers ghee; two seers onions; π seer salt; one seer fresh pepper; one dam (3 grams) each of cumin seed, coriander seed, cardamoms and cloves, and two dams of pepper.

The origin of the term 'curry' is controversial. Clearly, it has nothing to do with the dishes that are common on our tables: a salan is a meat or vegetable dish with a thin sauce, while a qorma generally has a richer, thicker sauce. A curry or karhi is a particular dish cooked with chickpea flour and yoghurt. So how did this word come to denote such a huge range of dishes, and is applied to recipes from Japan to Jersey? Collingham writes – and Sen concurs -- that the term probably derives from the South Indian word karil to describe "a spiced dish of sautéed vegetables and meat."

According to Emma Roberts, author of the 19th century work Scenes and Characteristics of Hindoostan (quoted by Sen), the Portuguese employed caril or cari to describe broths "made with Butter, the pulp of Indian nuts .. and all sorts of spices, particularly Cardamoms and Ginger … besides herbs, fruits and a thousand other condiments … poured in good quantity … upon boiled Rice." So clearly, what we know today as Indian (and Pakistani) food has a long history of innovation and experimentation. What has caused it to atrophy and stagnate? Obviously, the end of the courtly culture of India is one reason for this decline.

However, we must bear in mind that some of the most exciting variations of our cuisine is now taking place in Britain with Indian chefs extending the boundaries in their search for Michelin stars and to satisfy jaded and knowledgeable palates. Consider this gourmand menu from the Michelin-starred Zaika in London: Crab shorba and crab samosa; scallops seared and poached (with sesame and onion seeds); tandoori salmon and king prawn; masala foie gras; murg milan (duck salad); tandoori machli; naryal ka gosht; passion fruit granite; chocolate samosa and coconut cheesecake.

Without wine, this array of dishes will set you back 58 pounds sterling; with selected matching glasses of wine to go with each course, you'd have to shell out 95 pounds sterling. As a result of stiff competition, chefs cannot trot out the usual chicken jalfarayzee and still charge punters this kind of money. The fact is that food from South Asia is the most popular fare in Britain, with 33 pence out of each pound spent on eating out going to desi restaurants. The most frequented of these are the balti joints where Brits of every colour and creed flock after a football match or an evening spent knocking back lager.

While most cooks at South Asian establishments tend to be Sylhetis from Bangladesh, a handful of Indian chefs are blazing a trail in fine dining. According to Sen, five Indian restaurants were awarded the coveted Michelin star in London in 2008: Amaya, Benares, Quilon, Rasoi Vineet Bhatia and Tamraind. Other top-end establishments include Bombay Brasserie, Chor Bazar, Café Spice Namaste and Cinnamon Club. No Pakistani chef I know of is cooking at this level in Britain, or anywhere else for that matter. Curries have conquered all before them. In Japan, one of the most popular dishes is kare raisu, or curry rice.

Sen tells a charming story about a chef from Karachi who called himself Prince Ranji Smile, and who became New York's first celebrity chef from India in 1899. Claiming to be the son of the Emir of Balochistan, he married a succession of American women and finally went bust. But he did create a huge stir, and introduced New Yorkers to authentic Indian food. Alas, nobody from Karachi (or anywhere else in Pakistan) has done as much.
COMMENTS (3)
Comments are moderated and generally will be posted if they are on-topic and not abusive.
For more information, please see our Comments FAQ