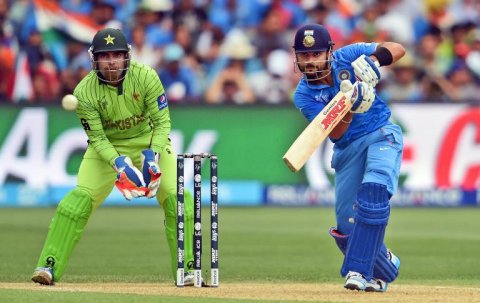 ---
NEW DELHI: A Bharatiya Janata Party (BJP) parliamentarian,  RK Singh, said on Monday that the proposed India-Pakistan cricket series planned to be played in December in the UAE should not happen, Express News reported.

Former home secretary and MP from Bihar's Arrah, RK Singh, raised the issue in the Lok Sabha during zero hour.

"A country which is giving shelters to the terrorists, who have attacked and had carried out bomb blasts against us, what is a point of playing cricket with that country, I don't understand," said Singh.


"Most wanted terrorist Dawood Ibrahim is in Pakistan as the home minister has just stated. You don't have friendly relations with a country which sends terrorists across the Line of Control everyday. I would request the government to reconsider the decision seriously."

Shahryar Khan positive for an India-Pakistan series

Earlier, the Pakistan Cricket Board chairman said on Sunday that they want to resume cricketing ties with India after waiting for eight long years, with a three-Test, five-ODI and two-Twenty20 matches tour.

The tour is part of a Memorandum of Understanding (MOU) signed between the two boards last year to play five series in the next eight years.

"We want to resume India-Pakistan series in the UAE," Khan, the chairman of the Pakistan Cricket Board, told reporters after a meeting with Indian cricket chief Jagmohan Dalmiya in Kolkata on Sunday.

"Preparations are in full swing. We have to overcome the final hurdle because an India-Pakistan series is more important than any series in world cricket."

The reluctance of the Indian government to clear bilateral cricket matches against Pakistan due to political tensions has meant the two nations have not contested a Test series since 2007.

But they continue to meet in multi-nation tournaments like the World Cup or the Champions Trophy.

Jagmohan Dalmiya, BCCI chairman, said he was hopeful the series will go ahead — provided the government gave the green signal.

"We are very hopeful of reviving the series," he said. "But a few things need to be sorted out. Without the support of the federal home ministry and the government, we can't go forward."

The Board of Control for Cricket in India said in a statement that it was "desirable to recommence cricket contact" with Pakistan.

"After proactive discussions, since there are certain matters that need to be addressed and considered, it was decided to take appropriate steps," the statement said.

"The two boards would be in regular touch and review the situation."
No Test-playing team has toured Pakistan since militants attacked the Sri Lankan team bus in Lahore in March 2009, leaving eight people dead and seven visiting players injured.
COMMENTS (22)
Comments are moderated and generally will be posted if they are on-topic and not abusive.
For more information, please see our Comments FAQ