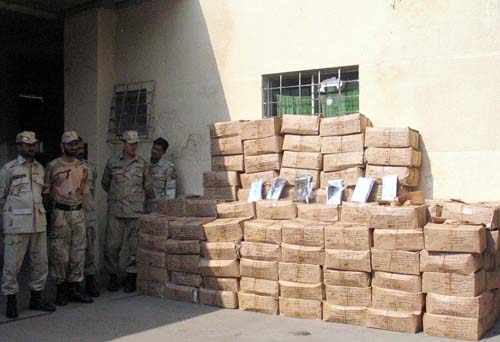 ---
RAWALPINDI: The Anti-Narcotics Force (ANF) on Saturday made a number of arrests and seized contraband from different areas in the city. At least seven cases of people carrying illegal drugs were reported.

According to ANF officials, the Rawalpindi Airport Team during routine surveillance at Benazir Bhutto International Airport detained a suspected passenger, identified as Adnan Shah, a resident of Peshawar, on suspicion of carrying drugs. A search of his trolley bag led to the recovery of 1.2kg heroin. The accused intended to board a flight for Bahrain via Doha.

Separately, ANF teams intercepted a suspected consignment comprising two cartons of bed sheets and curtains at the office of Zohaib International Cargo and Courier Services. The team during search of the consignment seized 165 grams of heroin, which was concealed in the curtain's folding.

According to details, the consignment was booked by a person, identified as Hafeezur Rehman, resident of Abbotabad and was intended to be received by Abbas Shah, residing at Park Village, Wolverhampton, United Kingdom.

The ANF Rawalpindi Road Check Team during a routine check at Mullah Mansoor Toll Plaza on GT Road stopped a Suzuki Mehran and recovered 10kg of hashish during a search of the vehicles. Two drug traffickers identified as Hameedullah Khan and Rehmanullah Khan, both residents of Khyber Agency, were also arrested during the operation.

Meanwhile, acting on a tip-off, ANF officials intercepted a Suzuki Mehran near 26 Chungi Motorway Mor and recovered five kilogrammes of hashish from the possession of the occupants, identified as Haider Zaman from Peshawar and Yasir Shah from Rawalpindi.

In another tipped-off raid, the ANF Rawalpindi carried out a search operation near Chungi number 26 and intercepted a Toyota Hiace and arrested a suspected drug trafficker, identified as Fazae Moula, a resident of Bajaur Agency, and recovered 2.2kg hashish. After preliminary investigation, a drug recipient Muhammad Arshad was also arrested from Sarafa Bazar, Rawalpindi.

Separately, an ANF team posted in Gilgit arrested two brothers identified as Rehmat Gull and Rehmat Khan, both residents of Diamer, and recovered 1.04kg of opium and 290 grams of hashish from their possession. They were arrested near Kohistan Mandi, Gilgit. Cases were lodged against all the accused.

Published in The Express Tribune, May 10th, 2015.