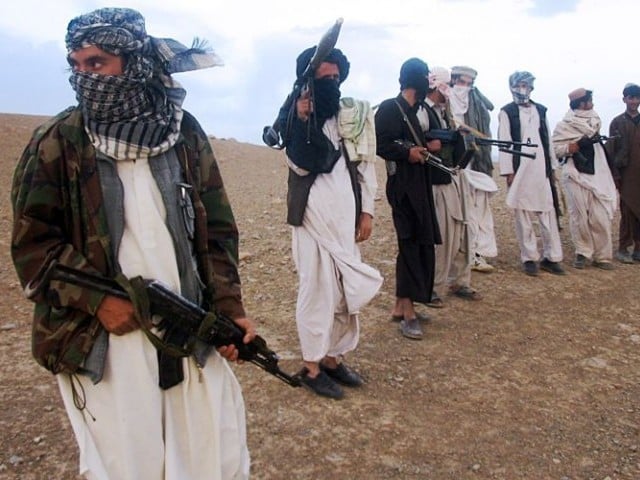 ---
KUNDUZ, AFGHANISTAN: Foreign fighters allied with the Islamic State group are training Taliban insurgents in a restive Afghan province, an official said Friday, the first such claim as the government raises the alarm over an emerging IS threat.

President Ashraf Ghani has repeatedly raised fears that IS -- notorious for their brutal reign of terror in Syria and Iraq -- are making steady inroads into Afghanistan, which is already in the grip of a fierce Taliban insurgency.

But the governor of Kunduz, the scene of intense fighting for two weeks that has displaced thousands, has gone further by claiming that the two groups are joining forces in the northern Afghan province.

Read: Afghan Taliban link reconciliation with complete withdrawal of foreign troops

IS fighters are "supporting the Taliban, training the Taliban, trying to build the capacity of the Taliban for a bigger fight", provincial governor Mohammed Omar Safi told the BBC.

Local observers have viewed claims of IS's rise in Afghanistan with caution.

The Middle Eastern group has never formally acknowledged a presence in Afghanistan and most self-styled IS insurgents in the country are believed to be Taliban turncoats rebranding themselves to appear as a more lethal force.

The two groups, which espouse different ideological strains of Sunni Islam, are believed to be arrayed against each other in Afghanistan's restive south, with clashes frequently reported.

But the governor insisted that the fight is different in the once-tranquil north, which has recently seen a huge influx of foreign fighters from countries such as Chechnya, Pakistan and Tajikistan.

Read: Will Kabul's talks with the Afghan Taliban succeed?

"In the worst affected Imam Sahib district, (IS) fighters are training and supporting local Taliban fighters to raise their capacity... in their fight against the Afghan government," the governor's spokesman Abdul Wadood Wahidi told AFP.

Last month hundreds of militants came within six kilometres (3.7 miles) of Kunduz city just hours after the Taliban launched their annual spring offensive, in the most serious threat to any provincial capital since the US-led 2001 invasion of Afghanistan.

The insurgents have since been pushed back after Afghan reinforcements were brought in from other frontlines, but the fighting still continues to rage on the fringes of the city.

Tens of thousands of people have been displaced due to the clashes, with aid agencies warning of dire living conditions for those who have fled their homes and moved to the city centre.

"Around 14,000 families have been displaced in two weeks of ongoing fighting in Kunduz," Ghulam Sakhi, an administrator in the Kunduz refugees department, told AFP.

"Our teams have surveyed 600 families and have distributed food items and blankets, mattresses and kitchen kits."

Read: Kabul-backed peace council to meet with Afghan Taliban at Qatar conference

Afghan government forces are preparing for a fresh offensive to flush out insurgents from the outlying areas of the city, officials said.

President Ghani has warned that IS poses a serious threat to regional security, warning that the group was more than lethal than Al-Qaeda.

"With all apologies to Microsoft, if Al-Qaeda was Windows One, Daesh is Windows Five," he told reporters recently, alluding to the Arabic acronym for IS.

But some local observers accuse him of grabbing world attention by playing up the IS threat in the face of dwindling foreign aid and as international troops depart.

"Daesh have a limited number of fighters in Afghanistan," Mia Gul Waseeq, Afghan political and security analyst, told AFP.

"But they are trying to grow their influence in Afghanistan, training and supporting the Afghan Taliban in their ranks who swore allegiance to them."
COMMENTS (1)
Comments are moderated and generally will be posted if they are on-topic and not abusive.
For more information, please see our Comments FAQ