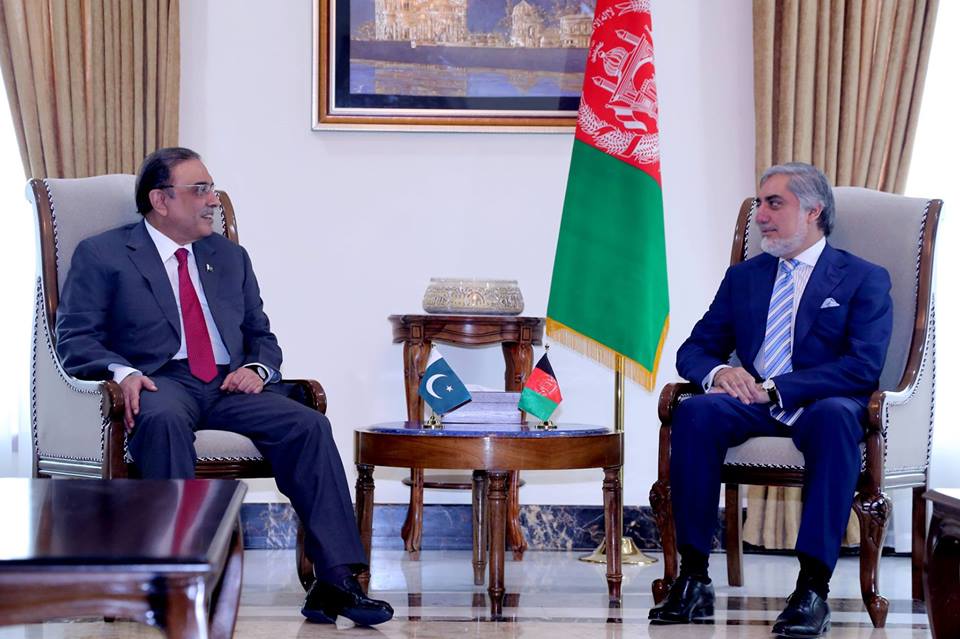 ---
ISLAMABAD: Former president and Pakistan Peoples Party co-chairman Asif Ali Zardari and Afghan Chief Executive Dr Abdullah Abdullah called for Pakistan and Afghanistan to mount joint efforts against terrorism which was termed a serious threat to both countries.

The PPP delegation led by former president, had arrived in Kabul on Thursday to discuss joint efforts to strengthen anti-terror cooperation and to boost people-to-people contacts. During the visit, Zardari met with the Afghan chief executive at his office for lunch before meeting former Afghan president Hamid Karzai for tweet.

They discussed issues related to bilateral relations, regional situation and the need for enhanced economic cooperation came under discussion, read a statement issued by Abdullah's office.


PHOTO: Dr Abdullah Abdullah's Facebook page

"The current environment requires new decisions. Pakistan, Afghanistan and the whole region face serious threats and these threats need new cooperation," the statement quoting Abdullah said, a copy of which is available with The Express Tribune.

The two leaders also agreed that the time has come for both countries to "sincerely and jointly" fight the menace of terrorism.

Zardari hailed the formation of the unity government in Kabul, and encouraged the support Pakistan could provide at multiple levels for the advance of peace in the region.

Terming terrorism as the common enemy of Pakistan and Afghanistan, Zaradri called for effective cooperation between the two neighbours.

Read: Afghan president 'cautiously optimistic' over Pakistan

Earlier, upon his arrival Zardari was received by Pakistani ambassador in Kabul Abrar Hussain and other diplomats along with senior Afghan officials. Former prime minister Yousuf Raza Gilani and PPP leader Sherry Rehman are also accompanying the former president.

Zardari had been invited to visit Afghanistan by President Ashraf Ghani when he visited Islamabad last year.

According to an Afghan official, "The Afghan side is likely to bring the PPP leaders' attention towards the plight of the Afghan refugees."

Foreign Office welcomes the visit

Welcoming the visit of the opposition leaders to Kabul, the newly appointed Foreign Office Spokesperson Qazi Khalilullah described the visit as a "good omen," adding that the government encourages political contacts between the two countries since they promote bilateral ties.

This is not the first of this kind by Pakistani leader. Earlier in January Afghan President hosted top Pakistani Pashtun leaders, including Pakhtunkhwa Milli Awami Party chief Mehmood Khan Achakzai, Qaumi Watan Party's head Aftab Ahmed Khan Sherpao and ANP leader Afrasiab Khattak.

The Afghan leadership has also invited several other Pakistani politicians including JUI-F chief Maulana Fazalur Rehman and head of Jamaat-e-Islami Sirajul Haq. According to party officials, both leaders have accepted the invitation.

Zardari meets with Ashraf Ghani

Later in the evening, Zardari and the PPP delegation were hosted by Afghan President Ashraf Ghani at the Dilkusha Palace.

They discussed where matters of mutual bilateral interest in an atmosphere of goodwill and cordiality.


Ex-#Pakistani president @AAliZardari meets #Afghanistan's president @ashrafghani in Palace #Kabul pic.twitter.com/lZoC4ddtpq

— Abdulhaq Omeri (@AbdulhaqOmeri) May 7, 2015