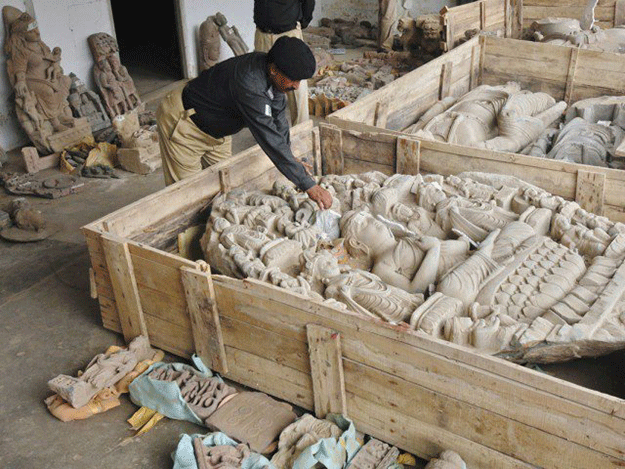 ---
QUETTA: No proper measures have been taken to recover at least 1,200 artefacts and relics of Balochistan that turned up in Italy and Germany after being smuggled out of the country a year and a half ago.

Some 300 smuggled treasures of Balochistan's archaeology, which were recovered in Italy last year, are still in the possession of Pakistan Embassy in Rome as no required initiatives have been taken by the provincial government for the return of the antiques.

A reliable source in the directorate of archaeology told The Express Tribune that the antiques of Balochistan, which belong to Mehrgarh, were stolen from the province and were later recovered by the Italian border force. "No proper step has been taken by the provincial government for the return of these antiques," he added.

Mehrgarh, which is located in Sibi district is one of the oldest civilisations in the world.

Deputy director of directorate of archaeology Jameel Baloch said a German official, Dr Hoty, told him that Germany have some 900 antiques of Balochistan civilisation which can be handed over to Pakistan but await only an official letter from the government of Balochistan. Lack of interest on the part of the provincial and federal governments is only delaying the matter.

Moreover, around 17,000 antique items, which are also Balochistan's property, are dumped in Karachi, Jameel Baloch said. And again lack of interest is to be blamed as they too could not be brought back to the province yet, he added.

Culture Minister Mir Mujeebur Rehman Mohammad Hassni said, "We are trying to contact the Pakistani Embassy in Rome. We are writing a letter to the embassy to bring Balochistan's antiques back to the province."

Published in The Express Tribune, May 4th, 2015. 
COMMENTS (3)
Comments are moderated and generally will be posted if they are on-topic and not abusive.
For more information, please see our Comments FAQ