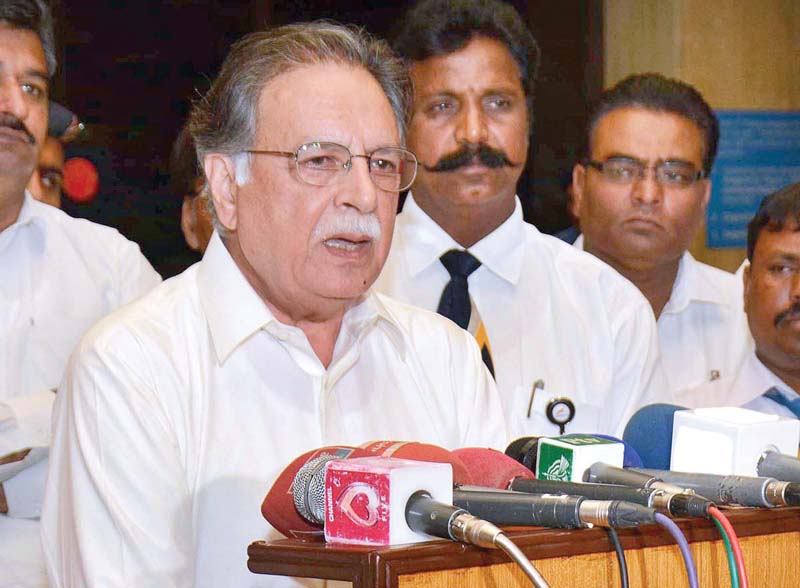 ---
KARACHI: Federal Information Minister Pervaiz Rashid has said that the PML-N government completely owns the surgical operation in Karachi and military offensives in the tribal regions and that the government's policies are based on the recommendations of the security institutions.

"The government and the armed forces are on the same page and the policies made by the government with the consensus of all political parties in parliament are based on the reports and recommendations forwarded by the security institutions concerned," he told journalists at the conclusion of a three-day conference organised by the National Academy of Letters in Karachi.

The minister said the government was committed to protecting the sanctity of all national institutions, including the armed forces and the judiciary. He added that the Constitution guarantees the right to expression, but it also disapproves of unwarranted remarks against the national institutions, particularly the judiciary and the armed forces.

Replying to a question, Rashid said the government had immediately and strongly responded to the unsavoury statement made by Muttahida Qaumi Movement chief Altaf Hussain, who after realising his mistake, also tendered an apology.

The government, however, keeping its constitutional obligations in view also believes in soothing frayed tempers, instead of aggravating the situation at any level, he added.

Replying to a query about reservations related to the NFC Award, Rashid said it was  reactivated by the PML-N government, due to which the share of the provinces was also markedly increased.

"The provinces are now financially stronger. Both federal and provincial governments are complementing each other," he added. "The federal government is currently more focused on infrastructure development and financial stability of the country."

The minister, in response to a question about Pakistan Tehreek-i-Insaf chief Imran Khan, said the government had some constitutional responsibilities and therefore, it worked to defuse instead of igniting differences or misgivings. "Unfortunately, Imran Khan has developed a tendency to get entangled in one or the other issue that are often baseless – without any rhyme or reason," he added.


Asked about the Cyber Crime Bill, he said it was being enacted to protect privacy of people and also to counter unethical use of social media.


Published in The Express Tribune, May 4th, 2015.