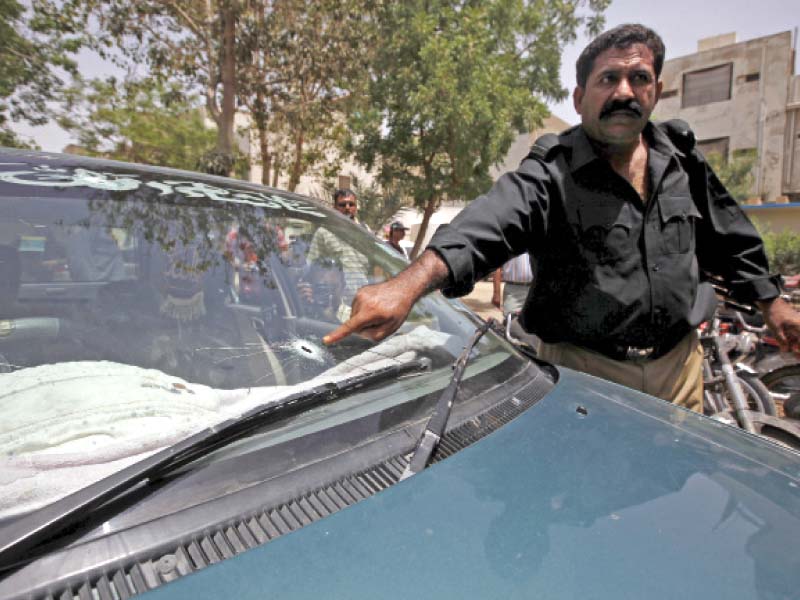 ---
KARACHI:



The killing of Dr Syed Waheedur Rehman has made the University of Karachi (KU) lose its second professor since September, when the varsity's Islamic Studies' dean, Dr Shakil Auj, was also shot dead.




Dr Rehman, popularly known as Yasir Rizvi, was an assistant professor at KU's mass communication department. He was driving his green Suzuki Cultus when he was shot multiple times close to the boundary wall of the Karachi Institute of Heart Diseases (KIHD) in Federal B Area's Block-16.

It was around 10:50am when Dr Rehman left his home, located in Latif Square apartments, for the varsity. The shooting took place merely five minutes after he left, said his family members. "He had no enmities with anyone and he never did wrong with anyone," said his relative, Saeed Ahmed. "Why was he killed?"

According to witnesses, at least four armed men on two motorcycles were involved. "The men had covered their faces with handkerchiefs and helmets when they opened fire at his car," said a witness. "One of them walked away from his motorcycle and shot him at point-blank range." Dr Rehman was shot at least five times and died shortly after.

His body was taken to Abbasi Shaheed Hospital where a large number of his relatives and colleagues also reached. The body was handed over the family for burial later in the afternoon.

Ruling out 'sectarian' motives

Initial reports suggested that Dr Rehman may have been targeted as his nickname, Yasir Rizvi — which is a common surname among Shia families — suggested he belonged to the Shia community. The police ruled out, however, this possibility. "This is not a sectarian attack nor is this a case of mistaken identity," said Yousuf Plaza police SHO Akram Arain.

There is little evidence to suggest the links between the killing of Dr Rehman and Dr Auj, he said. The empty bullet shells have been recovered from the crime scene and they will be matched with existing samples from other high-profile cases, he added.

Two teachers gone

On September 18 last year, Dr Auj was killed in a similar manner on University Road in Gulshan-e-Iqbal. The professor was on his way to attend a ceremony organised in his honour at the Iranian Cultural Centre for getting a Tamgha-e-Imtiaz for his meritorious services in Islamic studies.

The alQaeda in the Indian Subcontinent (AQIS) had claimed, through its official Twitter account, the responsibility of killing Dr Auj and Prof Sibte Jafar, the principal of Liaquatabad College who was shot dead in March 2013. In a press conference a month later, the then CID Operations SSP, Fayyaz Khan, had claimed the arrest of the Lashkar-e-Jhangvi chief Muhammad Athar alias Khalid and his accomplice, Muhammad Shahid alias Churan, who also confessed to killing Prof Jafar. Meanwhile, police officials investigating the case claimed in January this year that a man belonging to the Muttahida Qaumi Movement was arrested for the two killings.

Universities on strike

Following Dr Rehman's killing, the Federation of All Pakistan Universities Academics Staff Association (Fapuasa) has announced that all public-sector universities across the province will observe a strike on Thursday (today) to protest the incessant killings of teachers.

After the news of his murder became known on Wednesday morning, the Karachi University administration announced to close the institution for a day. The KU teachers' society, in a press conference held later in the afternoon, announced that the academic activities will remain suspended on Thursday as well, during which the teachers will hold a condolence reference for their 'exemplary colleague'.

"The voices of reason are being silenced, one by one," said Prof Dr Jamil Hassan Kazmi, president of the KU teachers' society. "When the wounds inflicted by Dr Auj's murder are still fresh, we are forced to brave the loss of another colleague, whose only weapon was his pen and knowledge."

The KU teachers in association with Fapuasa will announce their future course of action on Monday.

Published in The Express Tribune, April 30th, 2015.
COMMENTS (1)
Comments are moderated and generally will be posted if they are on-topic and not abusive.
For more information, please see our Comments FAQ