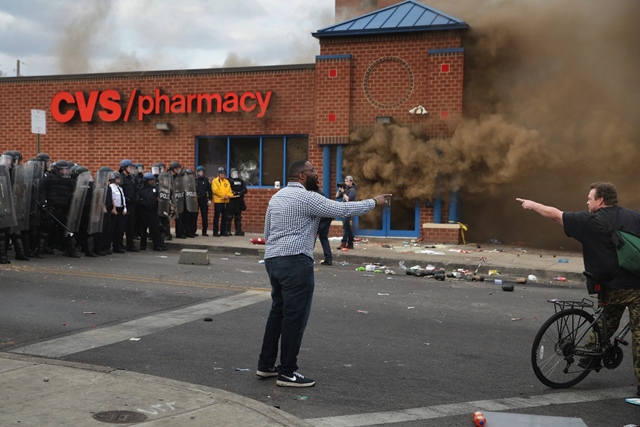 ---
WASHINGTON: A riot in Baltimore, US, sparked by the death of a black man in police custody, is the latest outpouring of anger at perceived police racism.

Rioting erupted Monday after the funeral of Freddie Gray, a 25-year-old Baltimore man who died of severe spinal injuries eight days after he was detained by city police.

On August 9, Ferguson, Missouri, a white police officer kills an unarmed black teenager, aspiring college student Michael Brown, 18, unleashing sometimes violent protests and heavy-handed police tactics.

A later decision not to indict police officer Darren Wilson prompts riots in Ferguson and raises tensions from New York to Seattle with thousands taking to the streets.

Read: Riot after US jury fails to indict Ferguson policeman

In early March 2015 the US Justice Department publishes a scathing report into the shooting, condemning Ferguson's city hall, police department and municipal court for targeting its African-American majority.

Early December, New York, thousands of demonstrators take to the streets over four nights after a decision by a grand jury not to charge the white officer involved in the death on July 17, 2014 of African American father-of-six Eric Garner.

Garner died after being held in a police choke-hold while he was being arrested for selling individual cigarettes illegally in New York.

In an amateur video which is viewed around the world Garner is shown repeating "I can't breathe". The coroner concludes the death was a homicide.

Demonstrations protesting police violence against blacks escalate with the November 20 death of an unarmed black man, Akai Gurley, 28, a father of a young daughter, who is shot by an Asian-American officer who opens fire in a dimly lit staircase at a Brooklyn, New York apartment block.

On the day of his funeral on December 7, New Yorkers take to the streets to denounce police killings. The officer, Peter Liang, is charged with manslaughter.

Massive demonstrations take place across the country against police impunity. One of the biggest takes place on December 13 when at least 25,000 protesters paralyze parts of New York and Washington.

The Garner and Brown families are joined in Washington by relatives of 12-year-old Tamir Rice, who was shot dead by Cleveland police, and of Trayvon Martin, who was killed in Florida by a neighborhood watchman in 2012.

In Madison, Wisconsin four days of demonstrations follow the death on March 6 of Tony Terrell Robinson, 19, who is killed by a police officer during an altercation. The killing comes on the eve of the commemoration in Selma, Alabama of the 50th anniversary of the brutal repression of a protest demanding civic rights for blacks.

On April 15, in New York, several hundred people demonstrate against police brutality after the recent deaths of two unarmed blacks.

On April 2 in Tulsa, Oklahoma, Eric Harris, 44, a suspect in an undercover gun-sale operation, is shot by a volunteer reserve deputy police officer who claims he thought he had drawn his Taser stun gun when he shot Harris. The officer has been charged with manslaughter.

On April 4 in the US state of South Carolina an officer, Michael Slager, is charged with murder after a video shows him apparently gunning down a fleeing black man, 50-year-old Walter Scott after a traffic stop.

The video seems to show Slager in an altercation with Scott and then draw his gun and shoot seven to eight shots in Scott's back as he flees.