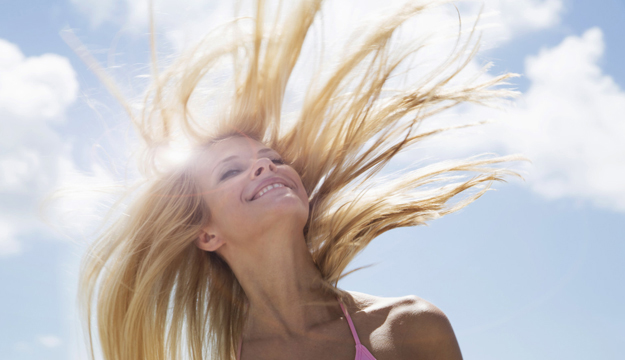 ---
NEW DELHI: Take extra care of your tresses in summer. Using coconut milk for lifeless hair and undergoing a regular trim for people who are suffering from thin hair, during this season will help, says an expert.

Here are some tips from Aashmeen Munjaal, owner of the capital-based Star Salon n' Spa, which can help you to keep your hair looking shiny and healthy.

Read: 7 foods to cure the blues 

1. Protect your hair from chlorine:

During summer, the best way to beat the heat is to take a dip in a pool. But we tend to forget that chlorine which is mixed in the pool water can easily damage our hair. To avoid that damage, apply thick layer of oil or conditioner and wear a tight swimming cap. Make sure that you go for a plain shower, do not use shampoo just after the dip. If you are a regular swimmer alternate sessions of hair spa will maintain the quality of your hair.

2. Oily scalp:

People who have oily scalp should not use conditioner as it will make your hair more oily. Still, if you want to opt for conditioners go for water-based conditioners, they will keep your hair protected from the harsh sun and at the same time will not let them become oily during summer. To remove excess oil from your hair, you can give it a gentle rinse with lemon juice. As a quick fix remedy, spray a bit of astringent in your hair and brush it on to get that instant fresh shine in your hair.

Read: 6 badnaam foods which are actually really good for you 

3. Static hair:

Static hair is the most common problem during winter, but it doubles up in summer as people spend most of their time indoors under air conditioner. And due to its consistency, hair tends to lose its moisture and eventually becomes static. To overcome this problem, you can spray a leave-in serum and comb your hair. If you want to get rid of this problem, make sure that you oil your hair regularly and provide it with mild steaming.

4. Lifeless hair:

Lifeless hair is a big no-no in any season. It can ruin your entire look, persona and elegance at the first glance. Rinsing your hair with coconut milk is the most sorted solution to get rid of this problem. If you lack free time, get hair texturing from a professional. Usage of shine enhancers is also a very good option as it stays on for two to three months. Use volumiser at the roots of the hair before you blow dry it.

5. Protection of coloured hair:

Avoiding heat and humidity is practically impossible when the sun is blazing hot. The most important thing is to cover up your hair with a scarf or a big beach hat as often as you can. If you have spent more time in the sun, taking a shower after that is not a bad idea, but mind the temperature for hot or lukewarm water is not a good idea. Use cold water instead -- the colder the water, the more the colour will stick to your hair. At least one shot of cold water at the end of your shower makes your hair shinier because it seals the cuticle. You should also use hair sunscreen with maximum of SPF 10.

Read: Car seats not safe for baby naps 

6. Get rid of sticky hair:

People who often face the problem of sticky hair should always opt for dry shampoo or a spray on of dry shampoo. If you want to pamper your hair to a larger extent, mix egg white and lemon and rinse your hair with this mixture thrice a week. Shikakai is a natural ingredient to overcome sticky hair in summers.

7. Hair thinning:

Hair thinning is a major problem when it comes to overall haircare. To avoid hair thinning, regular trimming sessions within a period of 30-40 days are advised. It will not only add to the volume of your hair but will stop it from hair problems like split ends. Use of brush with soft bristles is recommended accompanied with good combing techniques. Don't be harsh while detangling your hair after a shampoo.
COMMENTS
Comments are moderated and generally will be posted if they are on-topic and not abusive.
For more information, please see our Comments FAQ