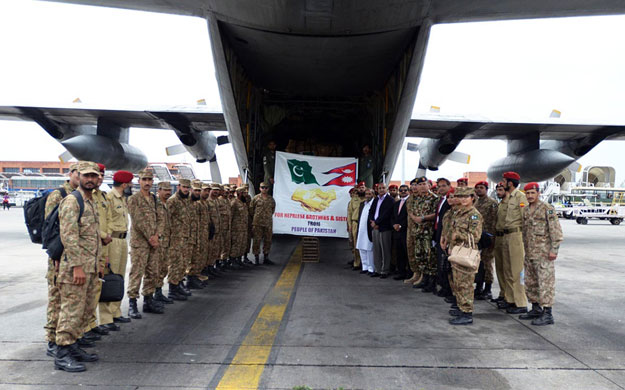 ---
ISLAMABAD: A C-130 plane carrying 39 Pakistanis from Kathmandu arrived at the Noor Khan Airbase in Islamabad on Sunday.

The earthquake in Nepal has caused massive devastation of both men and material and resulted in the deaths of more than 2,200 people with more feared caught up in the debris.

According to the commander of the airbase, Air Commodore Noor Khan Airbase Tariq Zaheer, there are no more Pakistanis stranded in the country, Express News reported

Speaking to the media, Tariq Zaheer said Pakistan always helped its neighbouring countries in such circumstances and will continue to reach out to them in future.

Talking to The Express Tribune, the Deputy Chief of Pakistani Mission in Khatmandu Javed Durrani revealed that besides the embassy staff there were around 100 Pakistanis in Nepal, most of who were concentrated in or near Nepalese capital. Durrani said a phone number has been provided for the people searching for their loved ones, adding that the embassy has also contacted the Ministry of Tourism Nepal to get more information on those who had particularly made their way to the country for mountaineering. "We have asked the local ministry while we are also checking through our own sources," he added.

He further claimed that no death of any Pakistani has been reported so far.

Upon arrival, emotional relatives received their loved ones in tears and thanked the PAF for its prompt and effective response to the emergency.

While these passengers hailed from across the country, most were from Rawalpindi, Peshawar, Lahore and Quetta and were serving in the Pakistan embassy situated in Kathmandu.

Expressing his emotions, a passenger said they had witnessed unimaginable destruction in the country and expressed gratitude that they have been brought back. He also wished peace for those departed and injured due to the catastrophe.

Relief goods dispatched

Meanwhile, Pakistan sent two aircraft full of relief goods and a 30-bed hospital comprising army doctors and paramedics as well as search and rescue teams to the country.

DG ISPR Major-General Asim Bajwa further said, "Urban search and rescue team of Pakistan Army equipped with ground penetrating radars, concrete cutters, sniffing dogs and equipment have been sent to help rescue teams."

Prime Minister Nawaz Sharif on Saturday telephoned his Nepalese counterpart Sushil Koirala and extended his condolences on the deadly earthquake.
COMMENTS
Comments are moderated and generally will be posted if they are on-topic and not abusive.
For more information, please see our Comments FAQ