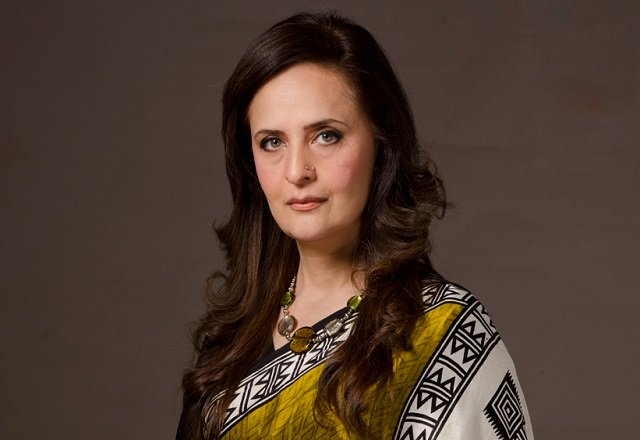 ---
LAHORE: Hina Khawaja Bayat, considered one of the pillars of the Pakistani entertainment industry, feels there is a preconceived notion about her country worldwide, and hopes that India and Pakistan soon learn to live like "good neighbours".

During her 20 years in the media industry, she pioneered ground-breaking shows like Baatain Mulaqaatain, Uljhan Suljhan and Geo Hina kay Saath. Her versatility as an actor was evident in a wide range of dramas like Humsafar, Talkhiyan, Aunn Zara and Zindagi Gulzar Hai where she has surprised the viewers in both Pakistan and India.

The actress who is ethnically from Kashmir but originally from Karachi, talks about the reason behind the popularity of Pakistani dramas in India, the notions about her country and about what it takes to be an actress in Pakistan.

Q. What's it about Pakistani dramas that you think has clicked with the Indian audience?

A. The first is reliability. Pakistani dramas have characters which are very real. Yes, they are dramatic, have twists and turns, but by and large , people like you and me just think, feel and behave in the same way. So, I think this clicked with the audience, because human emotions are the same everywhere.

Secondly, I think the duration. The story is wrapped up in a maximum 26 episodes and that's a lot.




Screengrab

Q. Were you always sure that Pakistani TV dramas would have a huge audience in India?

A. Even in the 1980s, Pakistani dramas had been very popular in India. I know that on the satellite and on DVDs, Pakistani dramas had already made a mark before Zindagi channel was launched, so we knew it will work. The kind of feedback that we get, it has definitely created waves. I know even from the industry itself, people like Amitabh Bachchan have been very vocal about appreciating our work, and it has created an impact. There is a market for our dramas in India just like there is a market for Indian films in Pakistan.




Screengrab

Q. Do you feel this exchange of entertainment can ease the situation between India and Pakistan?

A. I think that on the political front, we have to be realistic. Pakistan is an entity that is here to stay. India is an entity that has been there. We really and truly need to understand that fighting off or negating each other is not going to help either of us. I think it's high time that we learn to live as good neighbours...Pakistan and India need to grow up. They need to understand that we can be a really powerful region in the world in terms of trade and activity...We need to put our energies and resources together. I think that on a one-on-one level, people want that. They are tired of fighting, they are tired of watching their resources being depleted or wasted in a non-productive or destructive way.




Hina Bayat at screening of Zindagi Gulzar Hai final episode

Q. Do you feel there is a pre-conceived notion about Pakistan's entertainment industry worldwide?

A. There is a pre-conceived notion about Pakistanis in general. I have been a journalist and anchor in my own show. I used to go to a lot of conferences and everywhere I went, they looked at me and said, 'Are all Pakistani women like you?' They somehow confuse us with the Arabs. We are primarily Muslims, but we have huge communities of Hindus, Sikhs, Parsis, even Buddhists and Christians. We also have a Jewish community.

I believe that you are recognised by your nationality, not by your faith. I could be anyone sitting here and I don't have any sign telling you what is my faith.




Screengrab

Q. And how does it feel to be an actress in Pakistan?

A. For me, TV itself was a big step because I come from a family which is 'liberally conservative'...who are quite liberal in thoughts and behaviour in the sense that we believe in good education and having a career, but showbiz was not something that they wanted me to step into. People from certain backgrounds don't want to be in these fields because they carried an image and reputation with them.

I promised my father when he said Mujhe accha nahi lagta ki meri beti ki tasveer lagi hai aur log buri nazar dale (I don't like when people stare at your photograph). So, I told him that would never happen. My husband has been my biggest strength.




Hina Bayat posing for a magazine

Q. What kind of support does the Pakistani TV industry get from the government?

A. None really. We unfortunately are not really recognised as an Industry. The moment I go for my national identity card for any official government related document, there is no category for acting profession. An actor or a media person is not really considered a profession. I have people in the government asking 'Acting ke alawa aap kya karti hai?' (What do you do apart from acting?), and I say that we don't get time after that as we work for insane hours. The understanding is missing.

Q. Do you follow Indian television?

A. Not really. I just don't have the mindset for it and time for it. I know people following Indian soaps for years and they live with those characters.




Walking the ramp at PFDC Fashion Week 2015

Q. But do Indian soap operas have market and viewership in Pakistan in general?

A. It has now lessened and I am saying so from the industry point of view because I get the feedback. Indian soap operas came at a time when Pakistani drama was on its last legs. We did have a whole wave of fake concept of Islamisation. I would say Wahhabi pushed the way of Islamising the country, and that killed our film industry, and was destroying our TV dramas. For those few years in between, people got hooked to Indian soaps, but when the whole wave of Pakistani dramas came in, people went back.
COMMENTS (1)
Comments are moderated and generally will be posted if they are on-topic and not abusive.
For more information, please see our Comments FAQ