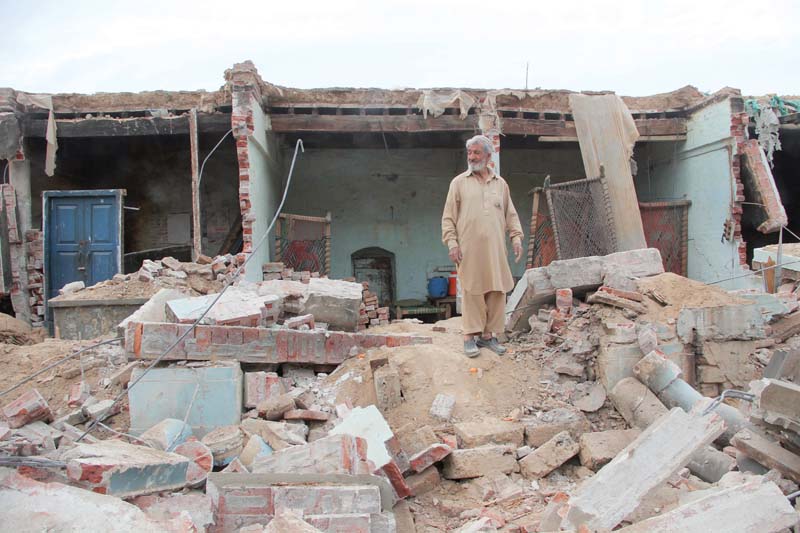 ---
MINGORA/ PESHAWAR:



At least nine Sikh families have been left in the lurch ever since their shops in Hayatabad were razed to the ground by the district administration.




Earlier this month, Peshawar DC Riaz Mehsud issued directives to destroy a large number of shops and markets which had been constructed illegally. The plan was put into effect on April 17.

Sardar Gurpal Singh, a leader of the Sikh Community in the provincial capital, told The Express Tribune the district administration's decision was completely unwarranted.




"Four Sikh families had purchased the land on which the shops had been built around one decade ago," he said. "The other five families had rented out the shops."

According to Singh, the families had lost all their belongings and suffered losses worth millions of rupees after district administration destroyed their shops.

Unprepared

Singh said the administration carried out an anti-encroachment drive in the area on short notice, leaving families with no time to find an alternative solution. "The deputy commissioner's office had directed occupants to vacate their shops within 24 hours on April 16," he said. "However, these families were not in Peshawar at the time. They were attending religious celebration at Panja Sahib Gurdwara in Hasan Abdal."

According to Singh, officials arrived the next morning to demolish the shops.

"Even shops which were locked by owners were demolished," he added.

Need of the hour

According to Singh, all nine families currently find themselves in a quandary.

"They have lost their source of income," he said. "Some of these families have already lost their loved ones to the iron-hand of militancy."

Singh urged Chief Minister Pervez Khattak to direct relevant authorities to reconstruct their shops and help them resume their businesses.

In February, Khattak had directed the district administration to take traders' associations on board whenever they launched an anti-encroachment drive.

Happy with the clean-up

On the other hand, residents have voiced their satisfaction over an anti-encroachment drive in Barikot Bazaar on Thursday. A large number of buildings were demolished.

"There are countless encroachments in the area which previous governments have ignored," said Tajdar Khan, a resident of Barikot. "Many shops and houses in the area have eaten into roads."

According to Tajdar, the removal of encroachments has eased traffic flow in the area.

"We are pleased with the government's efforts to take land back," Amjad Khan, a civil society member said. "This could have been dealt with earlier if previous governments had taken measures."

However, traders and shopkeepers have raised a series of concerns about the anti-encroachment drives.

"We have legally purchased our shops," said Itbar Gul, a shopkeeper at Barikot Bazaar. "We did not know about the encroachment drive. The government's action has resulted in massive losses for us."

The drive was conducted under the supervision of Swat DC Mahmood Aslam Wazir. Speaking to The Express Tribune, he said the drives would continue without discrimination till all illegal encroachments have been removed.

Published in The Express Tribune, April 24th, 2015. 
COMMENTS
Comments are moderated and generally will be posted if they are on-topic and not abusive.
For more information, please see our Comments FAQ