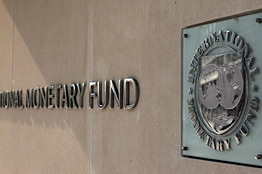 ---
WASHINGTON: The International Monetary Fund's board likely will meet in mid-May to consider the next tranche of Pakistan's $11.3 billion loan, a source close to negotiations between IMF officials and Islamabad said on Friday.

Pakistani finance officials are in Washington this week for spring meetings of the IMF and are also talking to the World Bank and the Asian Development Bank over steps being taken to raise electricity tariffs and other taxes that are unpopular with the public and politically risky for the government.

The IMF's board had originally been scheduled to meet on March 31 to approve the next portion of the emergency package, which was first agreed in November 2008 to avert a balance of payments crisis in Pakistan and to shore up reserves.

The source, who asked not to be named as the issue is sensitive, said talks with Pakistani officials would continue this weekend and the board meeting would likely be in mid-May to release the fifth installment, worth about $1.2 billion.

He said no definite date had been set, but ruled out the meeting would be held on May 3, as announced by the Pakistani prime minister's office last week.

"They are moving forward and things are going to be resolved very soon," the source said of current negotiations.

Experts said the Pakistani government was coming under increasing pressure from financial institutions, but there appeared to be some flexibility on the part of the IMF, which understood Islamabad was in a tight political and fiscal spot.

"The IMF understands the dynamic here and will give some breathing space," said Maria Kuusisto, a Pakistan expert with the political risk research firm Eurasia Group in London.

"It (Pakistan) needs the next tranche, but it cannot afford the political backlash against it by increasing tariffs now."

Power issue is major constraint

Pakistan is battling a chronic electricity shortage, with rolling blackouts countrywide, and is also struggling to keep its budget deficit at the levels required under IMF reforms.

Under the IMF program, the deadline for another increase in electricity tariffs was April 1, but Pakistan failed to meet that and has also been slow in implementing a value-added tax.

The IMF board meeting was delayed in part because the IMF is waiting for the World Bank and the Asian Development Bank to say it is satisfied that Pakistan will abide by its commitment to deal with both the power tariff issue and a problem of "circular debt."

Circular debt creates a chain reaction. Distributors cannot pay power producers, who in turn cannot pay fuel suppliers, resulting in even greater electricity cuts and putting more strain on the economy and industry,

"This is really the key issue that the government is struggling with and causing huge liquidity problems for banks and the government," said Eurasia Group's Kuusisto.

Seeking to ease IMF concerns, Prime Minister Yusuf Raza Gilani announced this week the government would pay off 116 billion rupees ($1.38 billion) of this circular debt.

The IMF has cited the power shortage as a serious economic constraint. The electricity crisis is so chronic that the country's central bank announced on Friday that it and all commercial banks would be closed on Saturdays as part of measures to cut state electricity use.

Lengthy power outages can last 6-8 hours a day in cities, while cuts are lengthier in the rural areas and have led to protests.

Adding to Pakistan's economic woes, the United States is in arrears paying back about $2 billion in military aid it owes to Pakistan under a program called the Coalition Support Fund.

Last month, Pakistani Foreign Minister Shah Mehmood Qureshi said a "substantial" amount of the money would be paid by the end of April, with Washington promising the remainder by the end of June.

Pakistani sources said as far as they knew the money had not yet started trickling in, but they expected Washington to stick to its promises.
COMMENTS (2)
Comments are moderated and generally will be posted if they are on-topic and not abusive.
For more information, please see our Comments FAQ