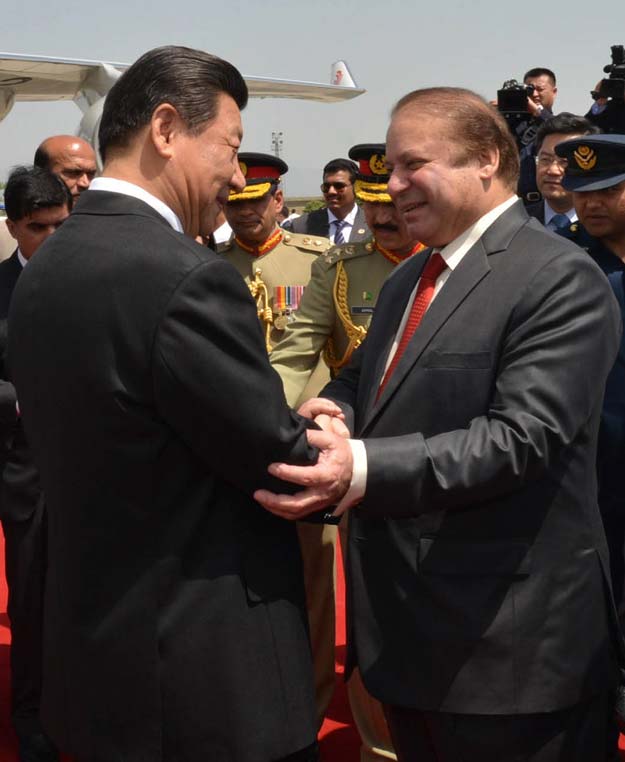 ---
ISLAMABAD: Chinese President Xi Jinping's two-day visit to Pakistan has been replete with flowery rhetoric extolling mutual love between both countries, but the name chosen for a new joint think tank has left some social media users in titters.

Dedicated to research on the China-Pakistan Economic Corridor, a $46 billion dollar plan linking China's restive west to the Arabian Sea, the newly inaugurated Research and Development International (RANDI) organisation has been widely pilloried because its acronym sounds like "whore" in Urdu and Hindi.

Read: Trade corridor tops Chinese investment bonanza

Social media users, including many from India -- Islamabad and Beijing's historic rival -- have latched on to name as a form of commentary on Sino-Pak relations, saying the South Asian country has now been 'bought' by China.

"Well, that's an unfortunate name for a think tank..." tweeted Fatima Bhutto, a writer and political activist, in one of the more understated responses.

Read: Baloch ire prompts security fears for China-Pakistan Economic Corridor

According to a press release, the think tank will be co-headed by Madame Zhao Baige, a member of China's parliament, and Mushahid Hussain, a Pakistani opposition senator.

"The new think tank is the first joint initiative of China and Pakistan which will be dedicated to research on the China-Pakistan Economic Corridor," said Mushahid, who added it was associated with the prestigious Tsinghua University.

The economic corridor will create a network of roads, railways and pipelines linking China's restive west to the Arabian Sea through Pakistan as part of Beijing's plans to expand its trade and transport footprint across Central and South Asia.

The project dwarfs previous efforts to assist Pakistan's underperforming economy, but analysts have cautioned that the lion's share of the returns would likely go to China.

Some of the tweets mocking the name can be viewed here:


It took joint Pak-Chinese imagination to produce this marvellous 5-letter disaster of ACRONYMOLOGICAL proportions http://t.co/6CnBtSncj8

— Shekhar Gupta (@ShekharGupta) April 20, 2015
The #RANDI think tank is indeed making everyone think as deep as they possibly could

— Haroon Hayat (@Rjharoon) April 21, 2015
Can anyone plz tell me #RANDI stands for....???

— Maheen (@MaheenAsif1) April 21, 2015
Hilarious, they even can't think of better abbreviations.. LMAO #RANDI

— Rajiv Gujral (@rajivgujral) April 21, 2015


https://twitter.com/Cantonaesque_/status/590462688167206915


Pakistan-China think-tank initiative leads to awkard-sounding Twitter trend - and verbal duels between Indians and Pakistanis

— omar r quraishi (@omar_quraishi) April 21, 2015
It's highly offensive think tank. #RANDI

— Nazrana Yousufzai (@Nazranausufzai) April 20, 2015
COMMENTS (18)
Comments are moderated and generally will be posted if they are on-topic and not abusive.
For more information, please see our Comments FAQ