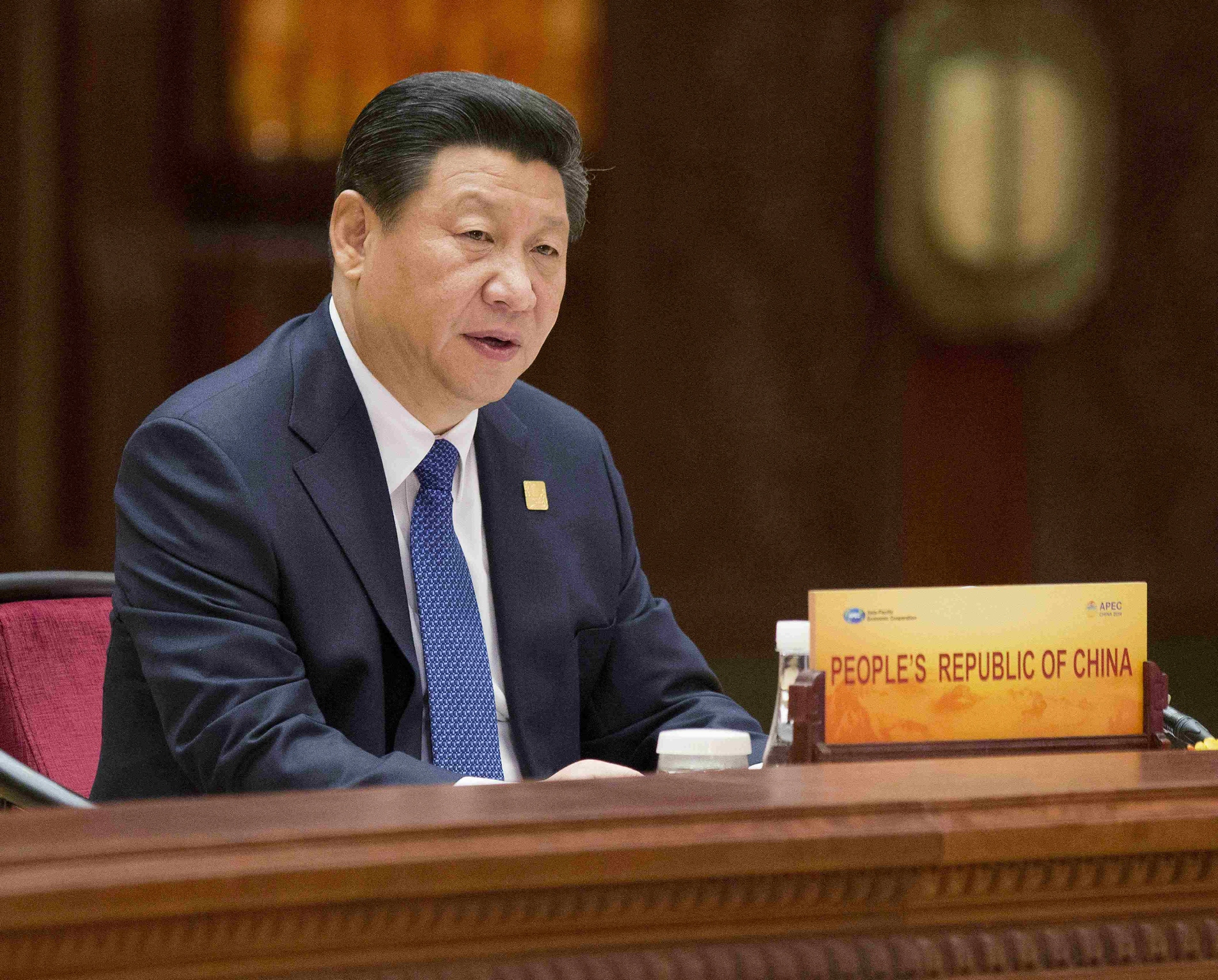 ---
ISLAMABAD: Chinese President Xi Jinping departed from Pakistan on Tuesday after addressing the joint session of Parliament .

Prime Minister Nawaz Sharif was present at the Nur Khan base in Rawalpindi to bid farewell to President Xi.




Express News screengrab of JF-17 Thunders escorting Chinese president's plane

Pakistan high on China's diplomatic agenda

"Pakistan is high on China's diplomatic agenda," the Chinese president said.

Beginning his address by thanking the people of Pakistan for their warm invitation, he extended good wishes to the people of the country.

Terming the friendship between Pakistan and China a 'truly unique' one, the president said, "Our friendship is deeper than oceans."

Read: Chinese President Xi arrives in capital to rousing welcome

"I am thankful to Pakistan for standing by China when it stood isolated," he added.

The Chinese president said the people of China were thankful to Pakistan for all the help and support provided when his country suffered from natural disasters.





Express News screengrab of Chinese president addressing joint session of Parliament


Further, Xi advised leaders of both countries should meet more often to strengthen relations which in turn would ensure an unbreakable bond.

Commenting on the economic corridor, the president said "to help Pakistan, is to help ourselves."

Read: Baloch ire prompts security fears for China-Pakistan Economic Corridor

Pakistan and China on Monday signed more than 50 agreements worth $28 billion, mostly covering commercial loans to Pakistani power generation companies, but also including financing agreements for six infrastructure projects that will set in motion work on the eastern trade corridor connecting western China with Gwadar that Beijing wants to see operational before the end of next year.

Read: Trade corridor tops Chinese investment bonanza

He upheld the two strategic partners would continue to be further enriched and strengthened.

"Our countries will always move forward together, come rain or shine," Xi said, as he described the all-weather friendship between the two countries.

"Coming to Pakistan isn't like coming to a foreign country, it is in fact like coming to my brother's home," the president said.



The president lauded Pakistan's efforts for being at "the front line of the war against terrorism."

Read: China's security as important as Pakistan's, Nawaz tells Chinese president

"The country has made great progress in its efforts for eradicating terrorism," Xi added.





Express News screengrab of Chinese delegation


Xi asserted China would support Pakistan and provide any assistance required for the ongoing efforts in the Khyber Pakhtunkhwa region and Federally Administered Tribal Area.

The head of state went on to laud the efforts of Pakistan for being one of the first countries to recognise new China, and also the first Islamic state to enter diplomatic relations with China.

Read: Guest speaker: Xi Jinping to address parliament on Tuesday

He further encouraged contact between Chinese and Pakistani children and said China would launch youth exchange programmes in order to promote cultural ties.

President Xi lauded Pakistan's constructive role in Afghanistan and said they would always support Pakistan in their hour of need.

"China will continue to enhance friendship and cooperation with all other countries, peaceful development is in China's interest and also in the interest of Asia and the world," he said.

Concluding his address to Parliament, Xi said "only through joint efforts can we create a bright future for China and Pakistan."

Read: Pakistan's fight against terror a 'game changer': President Xi

Addressing the joint session, Prime Minister Nawaz Sharif thanked the president for his inspiring address and said the two brother countries should continue to strengthen the already robust relationship between the two.

"This Parliament, the government and the people of Pakistan are thankful to you and your people for assisting us in our energy crisis," Nawaz said.

The premier lauded the efforts of China for standing by Pakistan in its efforts to overcome challenges. "We need to intensify our efforts to overcome these challenges," he added.


Express News screengrab of Prime Minister Nawaz Sharif addressing joint session of Parliament

Concluding his address, PM Nawaz termed the two nations as 'iron brothers' and marked the president's visit a historic moment.

"We thank you and your delegation for the efforts you have made for Pakistan," the premier noted and ended his note with a brief excerpt from Allama Iqbal's poetry.

Parliamentarians greet Chinese president

National Assembly speaker Sardar Ayaz Sadiq initiated Tuesday's address and highlighted the importance of the Chinese president's visit to Pakistan.



"This is the first address by a foreign dignitary in our Parliament," he said.

Read: Opposition unites to greet Chinese president





Express News screengrab of NA speaker


Leader of the Opposition in the National Assembly Khursheed Shah in a brief note to the Chinese president said "the ties between the two countries would continue to grow from pillar to pillar."


 Express News screengrab of Khursheed Shah



Express News screengrab


Chinese president at Parliament

Earlier during the day, Chinese President Xi Jinping held a meeting with the parliamentary delegation at the parliament house led by Speaker National Assembly Sardar Ayaz Sadiq.

Talking to the delegation, the Chinese President emphasized the need for enhanced parliamentary level exchanges between the two countries for further building and consolidating the bilateral relationship.


Express News screengrab



Express News screengrab


Xi is the first Chinese head of state to visit Islamabad since 2006. He was originally scheduled to travel to Pakistan in September last year but cancelled his trip due to political unrest in the country.





Express News screengrab of Begum Kalsoom Nawaz and the first lady of China 


After a brief meet and greet with party leaders and officials in Parliament, President Xi Jinping, accompanied by PM Nawaz departed from Parliament in a special entourage.


Express News screengrab



Express News screengrab of Chinese president and PM Nawaz 


President Jinping was also presented with a bouquet of flowers.





Express News screengrab


Chinese president conferred Nishan-e-Pakistan

The Chinese president was conferred the country's highest civil award, the 'Nishan-e-Pakistan' at a special investiture ceremony at the Aiwan-e-Sadr.

Prime Minister Nawaz Sharif, his wife Begum Kulsoom Nawaz and Army chief General Raheel Sharif were among those present at the ceremony.


Express News screengrab of the ceremony
Express News screengrab of Begum Kalsoom Nawaz and the first lady of China at the ceremony