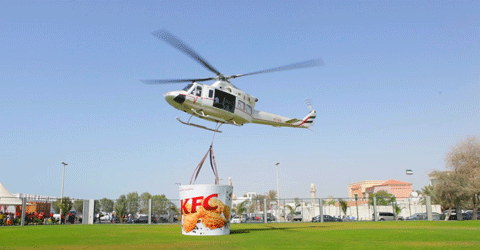 ---
KFC surprised thousands of visitors to Dubai's Kite Beach on Friday. The chicken restaurant astonished members of the public by delivering, using a helicopter, that swooped out of the skies to hand out free KFC sandwiches, reported Emirates 24/7. 

The KFC stunt saw a giant KFC bucket full of sandwiches suspended from a helicopter flying over Kite Beach and landing at the location.

Read: Plane leaves Seattle with napping airport worker stuck in cargo 

An awaiting KFC team distributed the bucket's 3,000 chicken sandwiches free to people enjoying the facilities at the popular recreation spot.

The surprise quickly turned to many taking pictures and videos.