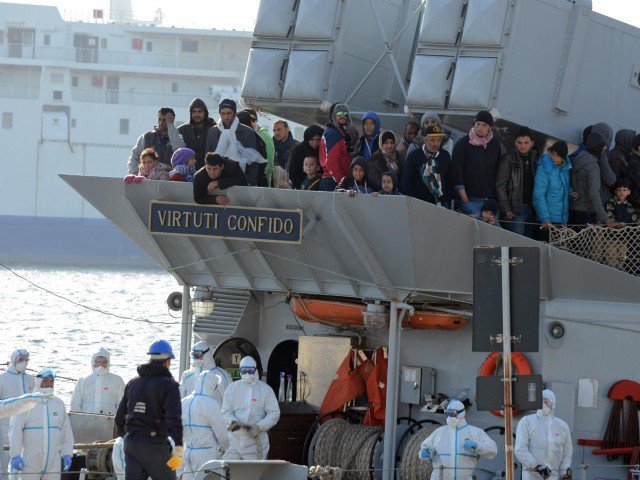 ---
ROME: Up to 700 people were feared drowned Sunday after an overcrowded fishing boat smuggling them to Europe capsized off Libya in the deadliest migration disasters in the Mediterranean Sea.

The Italian coastguard, coordinating the search for survivors and bodies, said only 28 people had survived the wreck, which triggered fresh calls from Pope Francis and others asking European leaders to act over what many saw as an avoidable tragedy.

Survivors' testimonies suggested there had been about 700 people aboard the 20-metre fishing boat when it keeled over in darkness overnight, officials said.

As Italy demanded an emergency summit of European Union leaders, talks at the level of foreign ministers were scheduled for Monday to discuss what Amnesty International blasted as a predictable 'man-made tragedy'.

Coastal authorities in Italy and Malta had picked up a distress signal from the stricken vessel around midnight (2200 GMT) on Saturday, when it was about 70 miles off the Libyan coast. The Italian coastguard instructed a nearby merchant ship to provide assistance. When the Portuguese-registered King Jacob arrived at the scene the fishing boat capsized, most likely as a result of the terrified passengers stampeding to one side in their desperation to get off, the UN High Commissioner for Refugees spokeswoman Carlotta Sami said.

Italian, Maltese and merchant boats scoured the area for survivors on Sunday but only 24 bodies were recovered. They were being taken to Malta.

"These are men and women like us, brothers seeking a better life," Pope Francis said in his weekly address to the Roman Catholic faithful in St Peter's square, urging leaders to "act decisively and quickly to stop these tragedies from recurring".

Amnesty's John Dalhuisen termed the accident a "man-made tragedy of appalling proportions".

The disaster was the latest in a growing catalogue of mass drowning of migrants attempting to reach Europe on overcrowded, unseaworthy boats run by human smugglers who are able to operate out of Libya with impunity because of the chaos engulfing the north African country.

The most serious incident prior to Sunday occurred off Malta in September 2014 when an estimated 500 migrants drowned in a shipwreck caused by traffickers deliberately ramming the boat in an attempt to force the people on board onto a smaller vessel.
Published in The Express Tribune, April 20th, 2015.