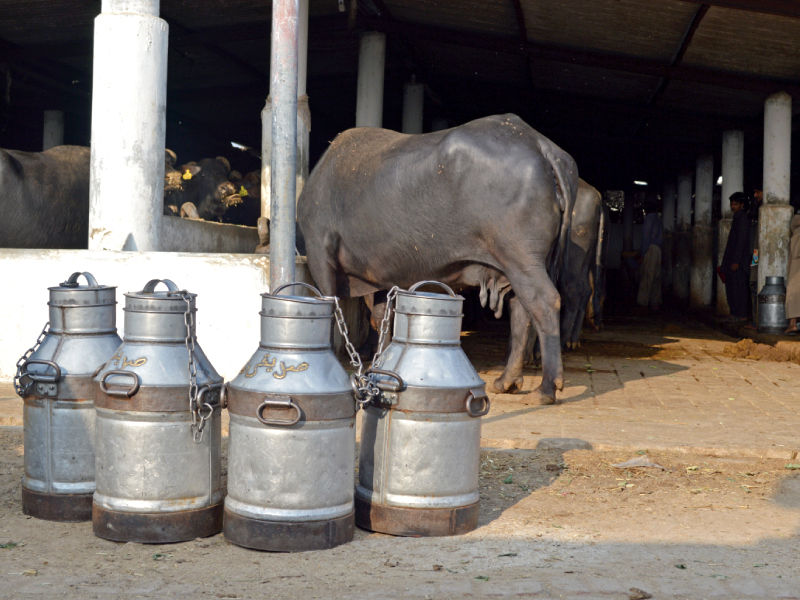 ---
LAHORE:



Punjab Food Authority has recently changed its standard operating procedure regarding the use of rapid test kits (RTK) to check for the use of starch or whey power in loose milk to make it denser. 




A food safety officer requesting anonymity said around 60 per cent of loose milk supplied in the city was adulterated with thickening agents without fear of repercussion.




PFA Spokesperson Fareeha Anwer said the SOP had been only slightly modified. Earlier, food safety officers would use the RTK and discard 'impure' milk on the spot. "The SOP has changed in a way that if the RTK tests positive for adulteration, the milk is sent to the laboratory first to confirm presence of thickening agents." She said the procedure had been modified so as to avoid errors.

Under the previous SOP, food safety officers would raid milk shops or local dairies and use RTKs to check presence of water, urea, formalin, detergents and starch in milk. If impurity was detected, the milk was discarded immediately so that it wasn't sold to consumers. The milk shops would also be sealed and containers carrying milk to the city would be impounded. Food safety officers would send samples of the milk to a lab for a screen test to ascertain its composition. Based on the lab report, a case would be prepared and the milk suppliers would be taken to court.

Recently, the authority lowered its standard of purity of milk from 28 lactometer reading to 22. The food safety officer said this meant that adding blocks of ice to the milk or watering it down would not be considered adulteration.

The food safety officer said mixing starch and whey powder thickened the milk but was injurious to health. There are two kinds of starch that milkmen use for this purpose – an edible kind and the one used to stiffen cloth. The latter is cheaper and more widely available whereas whey powder is more expensive, he said.

When the authority commenced operations in 2012, it had fixed the standard of purity of milk according to the international best standard – fat 5 per cent; solid non-fat (NFA) 9.5 per cent; and a lactometer reading of 28 per cent, he said. Between 4 and 5 million litres of loose milk is brought to the city from surrounding districts daily and is sold at milk shops, restaurants and hotels, he said.

The provincial government established the PFA in 2012 under the Punjab Food Authority Act 2011 to ensure best practices to secure food safety and quality in collaboration with manufacturers, food business operators, consumers and stakeholders. The authority was responsible for formulating and enforcing of food safety and quality standards; according registration and licences to food manufactures and outlets; and conduct laboratory accreditation of eatable items. The operational jurisdiction for the authority was initially Lahore.

Crackdown against  adulteration of milk

Punjab Food Authority teams visited various shops and milk selling points in the city on Wednesday to test milk for adulteration.

The Ravi Town field team sealed three milk shops – Ali Milk Shop, Mazhar Milk Shop and Pehalwan Sheer Farosh – for unhygienic conditions and selling substandard milk. The Allama Iqbal Town field team sealed Al-Faisal Milk Shop and discarded 50 litres of substandard milk; they also seized 325 litres milk from the Sahiwal Milk Shop. The Nishter Town field team sealed Anmol Dairy Shop for unhygienic conditions and selling substandard milk; Mansha Milk Shop was sealed and fined Rs4,000. The Aziz Bhatti Town team tested 26 samples of milk during raids – 24 of the samples were found pure and two tested positive for adulteration. The team discarded 700 litres of substandard milk. Allah Tawakal Milk Shop and Bismillah Milk Shop were sealed for selling substandard milk and unhygienic conditions and non-compliance of hygiene regulations.

The PFA spokesperson said the on-going campaign against selling adulterated milk was not eyewash. "We have been discarding hundreds of litres of impure milk ever day… the PFA stands by its rule that mixing any foreign object in milk is a crime," she said.

Published in The Express Tribune, April 16th, 2015. 
COMMENTS (1)
Comments are moderated and generally will be posted if they are on-topic and not abusive.
For more information, please see our Comments FAQ