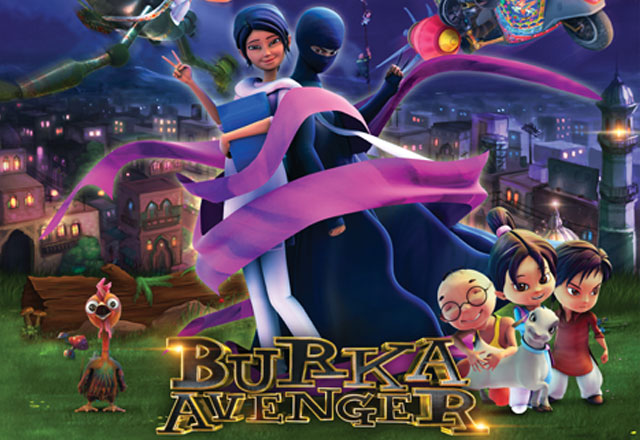 ---
A female cartoon superhero who dons a burka to tackle crimes against girls and other social ills is bringing her message of women's empowerment to India, Burka Avenger's creator Haroon said.

The Emmy-nominated series started in August 2013 and has since launched in Afghanistan, winning global accolades including the Peabody Award, International Gender Equity Prize and Asian Media Award.

Its main protagonist, a teacher called Jiya - who tackles everything from the ban on girls going to school, to child labor to environmental degradation - was named as one of the most influential fictional characters of 2013 by Time magazine.

The series' creator and director Haroon Rashid said Burka Avenger would launch in India in April with the Zee Network and will be broadcast in four languages - Hindi, English, Tamil and Telegu.

"It is launching on the ZeeQ channel which is a children's edutainment channel so it is the perfect fit for 'Burka Avenger'," Haroon said in a statement late on Monday.

"We are rolling out a worldwide launch for the Burka Avenger series this year so it is fantastic that one of the first territories is India where we are able to reach such a large audience."


ZeeQ promotional standee for Burka Avenger

Commentators say the ironic symbolism in the cartoon - where the burka, often seen as a form of subjugation is used as a form of empowerment, and that Jiya uses books and pens as projectile weapons - is a creative way of capturing viewers' attention.

Aparna Bhosle, deputy business head of ZeeQ, said each of the 13 episodes in the first series gives a positive message with fun, action and comedy, ensuring that "it does not come across as preachy".

"Burka Avenger is an amazing show - both in terms of quality of animation as well as storytelling. We are always on the lookout for shows with themes that are relevant to Indian children and we are very fortunate that we have this show," said Bhosle.

You can watch Burka Avengers's promo here:

[/fbvideo]
COMMENTS
Comments are moderated and generally will be posted if they are on-topic and not abusive.
For more information, please see our Comments FAQ