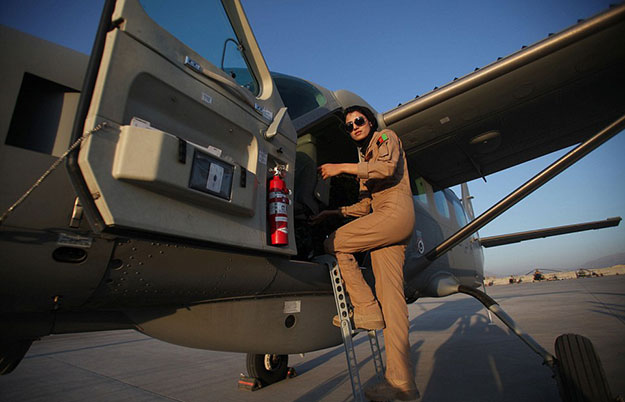 ---
Afghanistan's first female pilot to serve the Air Force since the fall of the Taliban has defied many odds.

Despite many threats from the Taliban and even members of her own extended family, Niloofar Rahmani, 23, became the first female fixed-wing Air Force aviator in Afghanistan's history and also the first female pilot in the Afghan military since the demise of the Taliban in 2001.

In recognition of her services, she has been honoured with the US Secretary of State's International Women of Courage Award, along with nine other inspirational women across the world at a ceremony last week.

Read: Don't let anyone kill your dreams says India's only woman Muslim pilot

Rahmani was only 18-years0old when an the Afghan Air Force announced to recruit pilots.





PHOTO: XINHUA


She said that she had dreamed of becoming a pilot since she was a little girl and spent almost a year studying English in order to be able to attend flight school.

She enlisted in the Afghan Air Force Officer Training Program in 2010 and  graduated as a Second Lieutenant in July 2012.





PHOTO: XINHUA


Captain Rahmani flew her first solo flight in a Cessna 182 and decided she wanted to fly even larger aircraft. She attended advanced flight school and began flying the C-208 military cargo aircraft.





PHOTO: XINHUA


Even though women are traditionally banned from transporting dead or wounded soldiers, Captain Rahmani defied the orders when she discovered injured soldiers during a mission.

Read: Pakistan fighter pilot wins battle of sexes, now she's ready for war

She then flew the injured men to a hospital and reported her actions to her superiors who chose not to impose sanctions on her.





PHOTO: XINHUA


When her achievements were made public, Captain Rahmani's family received threats from the Taliban, as well as family members, who disapproved of her ambition and career choices.

Many have taken to Twitter in support of the pilot.


Presenting the amazing Niloofar Rahmani, 1st female Afghani Air Force Pilot. Watch her take flight via @HuffPostIndia http://t.co/7VkY9NiQPa

— The Female Lead (@the_female_lead) April 14, 2015
Here I am with #womenofcourage awardee Capt. Niloofar Rahmani, the 1st Afghani fixed wing aircraft pilot in history pic.twitter.com/RyacXf2OlW

— Michele Manatt (@MicheleManatt) March 7, 2015
Aah. The Afghani female pilot is my namesake. :)

— Nilufer (@LucknawiRooh) April 14, 2015
The first Afghani female combat pilot is HAAAAWWWTT!!!!http://t.co/4WKNo35H7P

— Bielema's Beer Belly (@BielemasBelly) April 14, 2015
This article originally appeared on Mail Online
COMMENTS (4)
Comments are moderated and generally will be posted if they are on-topic and not abusive.
For more information, please see our Comments FAQ